Again, I think I say this on most recipe posts I do – I'm not a food photographer. I know I could do more to make pictures look nicer but quite frankly I'm usually hungry and trying to eat dinner while it's still warm! This wasn't the prettiest thing and I sadly had no fresh herbs leftover to at least bring a pop of color in here. 
But hopefully the crispy looking skin is pretty enough on its own! I can't get enough of that crunch of the skin – it's so satisfying! 
This was done in one pan, and while I cooked some veggies separately, you could totally cook some right in the same pan – carrots, broccoli, cauliflower, green beans, really any kind of veggie could work!
It just takes a few minutes per side of thigh to get that skin crisped up and a nice sear on the underside and then you finish off in the oven!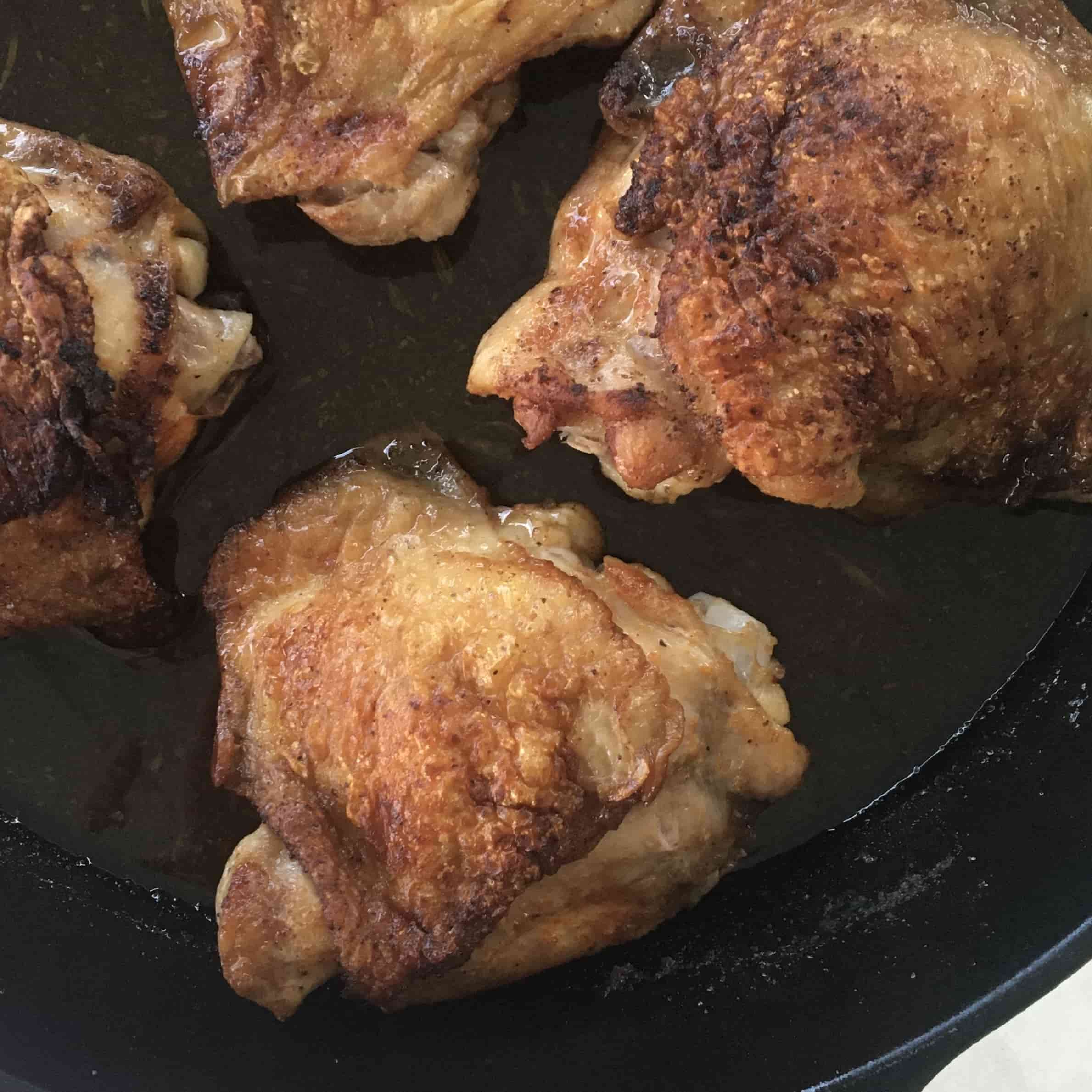 Ingredients:
4 bone-in skin-on chicken thighs (or however many you want to do – just adjust amounts of seasonings if you use more than 4)
2 tsp or so "Healthy Pursuits House Spice" – mix of garlic powder, onion powder, smoked paprika, salt, pepper, and a leeeeettle bit of cayenne. I don't know how much of each is in it but you can just sprinkle some of each to get the same effect!.
1 – 2 tbsp olive oil, butter, ghee, coconut oil, lard, or tallow
1/2 cup chicken broth
1/2 cup balsamic vinegar
1 tbsp pure maple syrup (omit for sugar free)
3 or 4 sprigs of fresh rosemary
1/2 tsp garlic powder
1/2 tsp dried sage
1 tsp salt
few grounds of black pepper
Directions:
Preheat the oven to 375 degrees. Loosen the skin around the chicken thighs and season with the House Spice mix, getting under the skin to really lather it up with seasonings. In a blender or using an immersion blender, combine the chicken broth, vinegar, maple syrup, rosemary, garlic powder, sage, salt, and pepper. You don't have to do this step, you could just mix it all in a measuring glass. I blended because I wanted the rosemary chopped up very fine. 
Heat a cast iron or oven-safe skillet on medium high heat. Add the cooking fat and once the pan is hot put the chicken thighs on skin side down. Allow them to cook without moving for 4 minutes. Flip and cook for another 4 minutes on the other side and then remove the chicken from the pan. Dump in a little bit of the broth/vinegar mix to deglaze the pan, scraping up any bits of chicken that are stuck to the bottom. (If you were going to add veggies and do an all-in-one-thing, I would add a little more cooking fat if the pan needs it now and then add the veggies, letting them brown for a bit before moving on to the next step). 
Put the chicken back in the pan and dump in the rest of the broth/vinegar mix. Try not to dump it onto the chicken skin. We wanna keep those guys crispy! Let the liquid start to simmer and then pop the whole thing in the oven to finish cooking. Set a timer for 15 minutes and then check the temperature of the chicken with a meat thermometer. You may need to add another 5 minutes or so if it isn't quite done.
There ya have it! We had this with sweet potatoes cooked in the Instant Pot and (cooked) frozen broccoli to keep it simple. If you wanted to take it a step further you could remove the chicken thighs after they're finished and simmer the sauce back on the stovetop until it thickens up. Or use another means of thickening like an arrowroot or potato starch slurry mixed in to the sauce after you take the chicken out. I didn't because of the laziness factor – we just spooned some of the juices onto our potatoes and broccoli!