I wasn't quite sure what to call this and was referring to it as a "warm, comforting, Indian-ish spiced chicken soup" until I realized the spices and ingredients I used are basically what's in Chicken Tikka Masala (which is a warm, comforting, Indian dish so I'm not too far off the mark there!). Typically tikka masala is a thick saucey-type deal that you'd have over rice but I added veggies and made this into a soup. 
As usual, I didn't measure anything when I made it. Or write down what I did while I was doing it soooooo this recipe is my best guestimate of what I did. My peeps that ate it wanted the recipe so hopefully if you make this version it will come out tasting like what I did! 
I made this using an Instant Pot but you could  just do it on the stove top. I'll make notes for each way.
So again, just assume an "ish" on the end of all amounts of ingredients. Soups are great for throwing in this or that, so play around with it!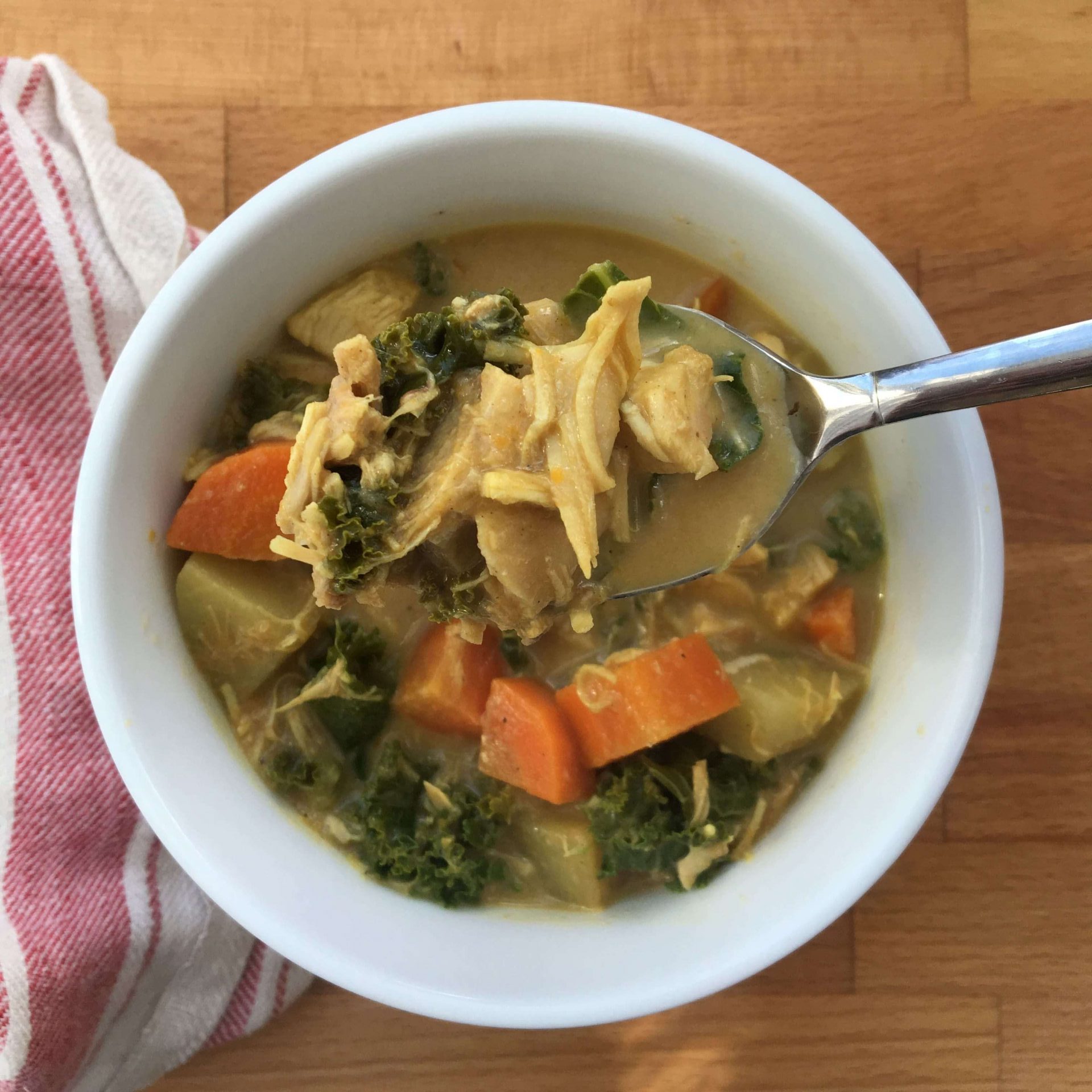 Serves 4-6 (I used a whole chicken and made enough to feed a small army. I'm going to adjust the amounts here to something that doesn't need to be transferred to a huge stock pot. IT'S IMPOSSIBLE FOR ME TO MAKE A SMALL AMOUNT OF SOUP!) ok, anyhoo…
Oh, also, I know this ingredient list is kinda long which might be off-putting. A lot of them are spices though so it really doesn't take too long to throw together! You can cook the chicken ahead of time too which would cut down on the actual soup-making time.
Ingredients:
3lbs boneless skinless chicken thighs (you could use chicken breasts but I like the juicer, less-likely-to-dry-out-meat)
1 very large or 2 medium kohlrabies (you could also use a few turnips or even potatoes. I was keeping this on the lower carbohydrate side)
1/2 to 3/4 pound carrots
1 onion
1 bunch kale
8 oz diced tomatoes, whole peeled canned tomatoes, or tomato puree (doesn't matter because you're going to be blending this later)
4 cups chicken stock
1 cup full fat coconut milk. This is my favorite kind. Otherwise use a canned variety like Thai Kitchen or Native Forest (both of which are usually available in grocery stores. There are other brands too, just look for ones that have as few ingredients as possible)
2 tsp garlic powder
1 tbsp garam masala seasoning
1 1/2 tsp turmeric 
1 tsp cumin
1/4 tsp cardamom 
1/4 tsp cinnamon 
2-3 tsp sea salt
black pepper to taste
Directions:
Instant Pot method: Add 1 cup of water to the Instant Pot and place the chicken thighs on the metal rack that comes with it. Cook on high pressure for 8 minutes and then allow the steam to naturally release for 5 minutes before manually letting the steam out. While the chicken is cooking, mix together the spices and cut up the kohlrabi and carrots into bite-sized chunks. To cut the kohlrabi, first cut off the stems and then use the knife to kinda roughly peel it. Then use a veggie peeler to get the rest of the skin off. They look scary but it's really not difficult. Chop the onion and remove the woody stems off the kale and cut into small pieces. 
When the chicken is finished, remove it from the pot. You can discard the water or use it as part of the chicken stock. Turn the pot to saute and some ghee, butter, coconut oil, or olive oil. Cook the onion for a few minutes until it softens. Add the carrots and kohlrabi and about 3/4 of the spice mix. Toss that all around and then add about half the broth. Switch the pot to pressure cook and cook on high for 1 minute. While that comes to pressure again, chop or shred up the chicken and mix with the rest of the spice mix.
When the veggies are finished, manually release the steam. They should be tender but still firm enough to not turn to mush. Using a slotted spoon, remove about 2/3 of the veggies to a bowl. Add the diced tomatoes to the veggies and broth still in the pot and cook on high pressure for another minute. When that is finished they should be easily mush-able. Use an immersion blender (or transfer the veggies and some broth to a regular blender) to blend it all up to thicken the broth. 
Add the coconut milk, the cooked chicken, and the veggies you removed earlier, the rest of the broth (use however much you need to reach your desired consistency), and the kale and allow it all to warm up and soften the kale. You can just do this on the warm setting or switch it to saute and do it that way.
Stove Top Method: Mix together the spices in a small bowl. Heat a large pot or dutch oven over medium heat. Cut up the chicken thighs into bite-sized pieces, add some ghee, butter, or oil to the pot and add the chicken. Toss it around in the pot with about 1/4 or so of the spice mix. Allow the chicken to cook pretty much the whole way through, turning and tossing the pieces around occasionally to get all sides.
While the chicken cooks, prep your veggies. Chop the onion, peel and chop the carrots and kohlrabi, and cut up the kale. Get that woody stem off of there. blech. When the chicken is cooked through, remove it and set aside. Add a little glug of the broth to the pan to deglaze it and scrape up any bits of browned chicken. Little flavor bombs, they are. Add some more ghee or oil if necessary and then add the onion. Cook until soft and then add the carrots and kohlrabi. Toss in the rest of the spice mix and mix that all around for a minute or so. Add the broth and bring to a simmer. Let that cook for 4-5 minutes, until the veggies are tender but not mush. When they're tender, remove about 2/3 of them to a bowl (use the same one you are using for the chicken – easier clean up). Continue simmering what's still in there, adding in the tomatoes to cook as well. Simmer for another few minutes until the veggies are easily mushed. 
Remove from the heat and use an immersion blender (easiest method!) or a regular blender (not as easy and requires more clean up) to blend the broth and the veggies that have become mush-like. When it's nice and smooth, place back on low heat and add the chicken and mostly-cooked carrots and kohlrabi, as well as the kale and coconut milk. Allow it to cook a little bit more on low heat to soften and cook the kale a bit. 
And there you have it!