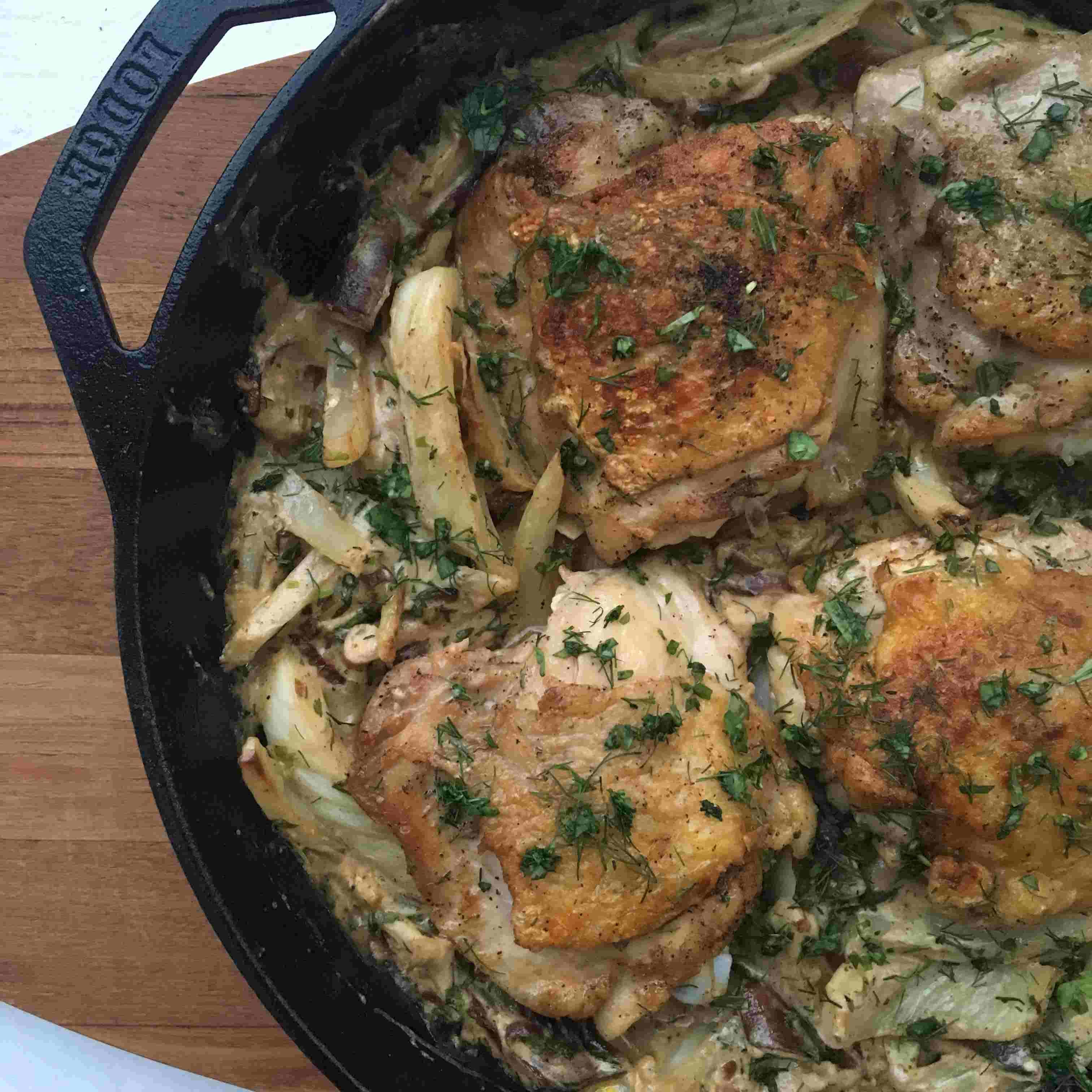 INGREDIENTS:
4 chicken thighs (mine were skin-on, bone-in)
1-2 TBSP ghee, or other cooking fat
1 fennel bulb (mine was pretty big)
1 small onion
3 garlic cloves
1 small box mushrooms (I used shiitake)
1 cup full fat coconut milk
3 TBSP stone ground mustard
1 bunch fresh tarragon (forgot to measure but it was probably a good 1/3 cup chopped) OR use 2-3 TBSP dried tarragon
1 sprig fresh rosemary
salt and pepper to taste
PREPARATION INSTRUCTIONS:
Preheat oven to 400 and heat a large oven-safe pan over medium-high heat. If the chicken has skin, peel it back and season underneath with salt and pepper (don't be shy with the salt. Salt is the vehicle of flavor! Use pink Himalayan for added minerals). Season the underside of the chicken as well.
When the pan is hot add your cooking fat and when it melts add the chicken skin side down. Cook for 4-5 minutes or until the skin has some nice brown color to it. Flip the chicken and cook another 4-5 minutes on the other side.
While the chicken is cooking, mince the garlic, chop the mushrooms, and slice the onion and fennel. The jolly old man in this video was where I first learned how to cut fennel. He can teach you, too!
When the chicken has cooked on both sides remove it from the pan. Turn the heat to medium and add the sliced onion and fennel. Scrape the pan a bit to get the brown bits off and mixed in with the veggies while they cook. Allow them to cook for 5-7 minutes while you whisk together the coconut milk and mustard. After the onion and fennel have cooked for a bit, add the garlic and mushrooms and cook for another minute or so. Add the coconut milk mixture and chopped herbs as well as more salt and pepper (Again, don't be shy with the natural sea salt!)
Mix that all around a bit and then place the chicken thighs back in, skin side up. Put the pan in the oven to finish cooking, about 15-20 minutes or until the chicken is cooked through. If the chicken you're using doesn't have skin, you could just cover the pan and continue cooking on the stove top. I wanted the skin to stay crispy so I finished it in the oven!
Top with more chopped tarragon and some chopped fennel fronds (the little dill-like stuff on the stalks).