Skip the takeout and just make this! It's not too many ingredients and can really come together quite easily. By making it yourself you can use way less sugar and avoid additives like MSG. Let me know in the comments below if you try it!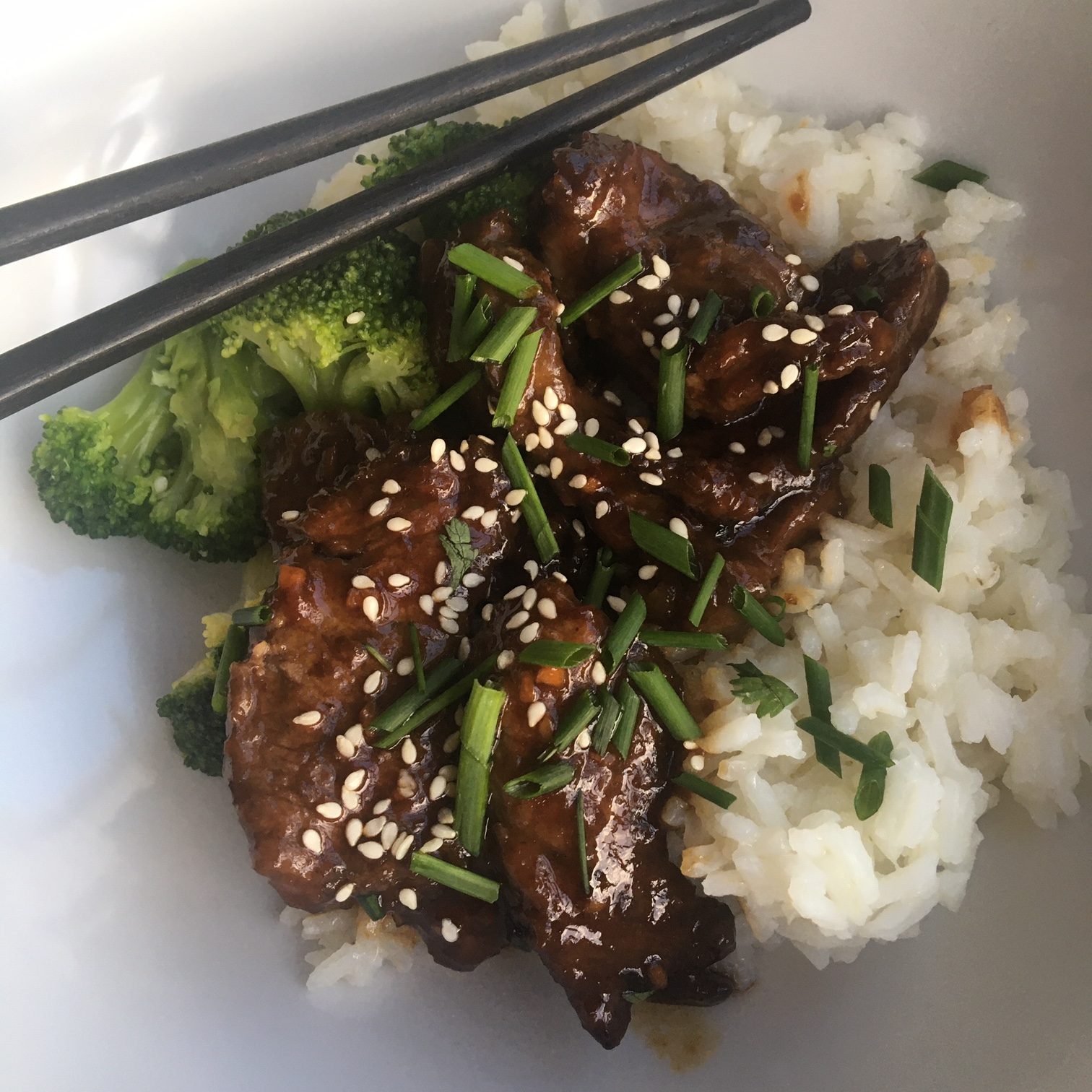 Ingredients:
1 lb (or more for more people) sirloin steak. You can also use another cut, as long as it's a quick-cooking cut and not a roast.
2 tbsp arrowroot or tapioca starch (skip if you need lower carb)
3 tbsp cooking fat (I used beef tallow). Olive, coconut, or avocado oil would work.
3 cloves garlic, minced. Use more if your cloves are small
1 inch piece of fresh ginger, peeled and minced
2-3 green onions (or chives, that's what I had)
1/3 cup low sodium Tamari. (this is gluten free soy sauce. I recommend low sodium because otherwise it would be really salty. Even for a salt-lover like me).
1/3 cup chicken broth (water is fine too)
1/4 cup honey 
2 tsp sesame oil
Rice or cauliflower rice, cooked broccoli, and sesame seeds for serving
Directions:
Heat a medium pot over medium to medium high heat. Slice the steak into thin slices and toss with the tapioca or arrowroot. Add the cooking fat and fry the beef for 2 minutes on each side, working in batches so you don't overcrowd the pan. Remove the beef to a plate or bowl when finished. 
While the beef cooks, combine the Tamari, water, honey, and green onion or chives (reserve a little for garnish) in a measuring glass and set aside. Once the beef has finished, if there are a lot of brown bits stuck on the pan, add a little water and scrape them up. Add the garlic and ginger and stir for 30-60 seconds. Don't let the garlic burn! You can add a little more cooking fat or oil if needed before adding the garlic and ginger. 
Add the Tamari mixture to the pot and stir everything together, again making sure nothing is sticking to the bottom. Bring to a boil and allow to boil for 8-10 minutes or until thickened. You can turn the heat down but do keep it higher than just a simmer. Stir occasionally.
While the sauce cooks, steam or boil broccoli (I used frozen!), and cook your rice. You can use cauliflower rice for lower carb if fat loss is a goal. It will still taste good!
When the sauce is thickened*, add the sesame oil and stir. Toss the beef back in it and allow the beef to warm back up. Then serve it all together, topping with some sesame seeds!
*If the sauce isn't thickening to your liking, take a teaspoon of arrowroot or tapioca starch and mix it with a tablespoon or so of water or broth and mix that into the sauce a little at a time until it has thickened to your liking.