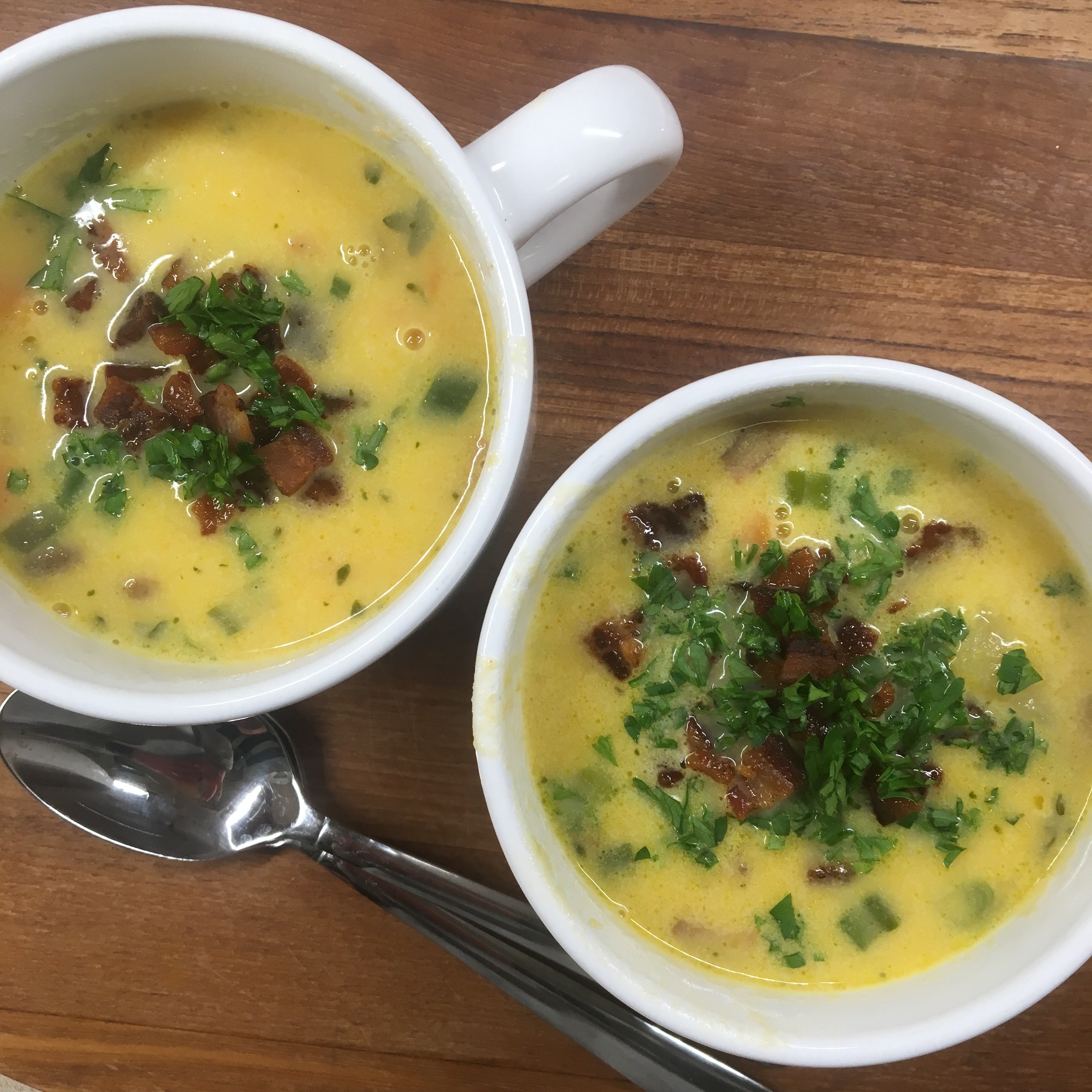 Introducing the new recipe segment "Last Night's Dinner." Some of it might be a bit random but I'm hoping to help give you some ideas about what to make or how to re-purpose leftovers. It probably won't always be too pretty (night time lighting here isn't great!) but I've been told people like my food and I need to share more of it. So, that's the plan!
Last night's dinner was a clam chowder. It's not your typical New England style but it is creamy and yummy and my New England Clam Chowder-loving husband really enjoyed it so that works for me. 
This version is low carb, flour and dairy free, and low-FODMAP for the IBS sufferers out there (with notes to make without worrying about FODMAPs), but still delicious! 
Wham, Bam, Thank Ya C
lam Chowder
serves: 4
INGREDIENTS:
1 small rutabaga, peeled and cut into small chunks
5 strips thick-cut bacon
1 tbsp garlic-infused olive oil (or 2 cloves garlic)
2 large carrots, peeled and chopped
1 stalk celery, chopped
1 bottle of clam juice
2 cups chicken broth
2 tbsp fresh thyme (or 2 tsp dried)
1 can full-fat coconut milk
3-4 green onions, green parts only, chopped (or 1 yellow onion)
3 cans clams (6.5 oz)
salt and pepper to taste
parsley to garnish
PREPARATION INSTRUCTIONS:
First, get the rutabaga pieces cooking by either boiling or steaming. I boiled them in a separate pot for 15 minutes while I got the rest of the ingredients ready.
Heat a heavy bottomed pan over medium heat and cook the bacon. I like to cut it up into small pieces first but you can also just cook the whole slices. Once they're finished, remove from the pan and set aside, leaving the bacon grease. If there's a ton leftover from cooking the bacon you can drain some of it. If you're making the "regular" version, add the chopped onion to the pan along with the carrots, celery, and rutabaga that is partially cooked at this point. Season with salt, pepper, and thyme. Saute for a few minutes until the onion has become soft. Add the garlic oil or minced garlic and cook for 30 seconds or so.
Add the chicken broth and clam juice and bring to a simmer. Allow that to cook until the veggies are soft. Then, remove about ¾ of the veggies and blend the remaining veggies into the soup using an immersion blender (or a regular one). Put the non-blended veggies back in along with the coconut milk, green onions, clams, and some of the bacon (crumbled or cut up) and allow it to heat up. Season with additional salt and pepper if necessary and top with some more bacon pieces and chopped parsley.
NOTE: the step of blending the veggies into the broth is definitely optional but I love the way it thickens things up and enhances the flavor of the broth without having to use any flour or anything else to thicken it.