I sure do make a lot of bowl-food. I just like eating out of bowls and this time of year calls for lots of stews, soups, chowders, and the like. The hubster, who usually doesn't have an opinion when I ask what he wants for dinner, requested a stew and it was the perfect meal for a cold day. This takes minimal prep but is nutritious, filling, and satisfying. 
Diakon radish is the potato stand-in today and I think it serves that purpose quite well! They are much lower in carbohydrates and pack a nutritional punch with high amounts of vitamin C, phosphorus, and potassium. They're milder than other radishes, particularly when cooked. They soak up the other flavors of the stew well and still give the potato-ish feeling. 
As with my other recipes, I made this friendly for those with digestive issues, but will add notes for just making it the regular ol' way!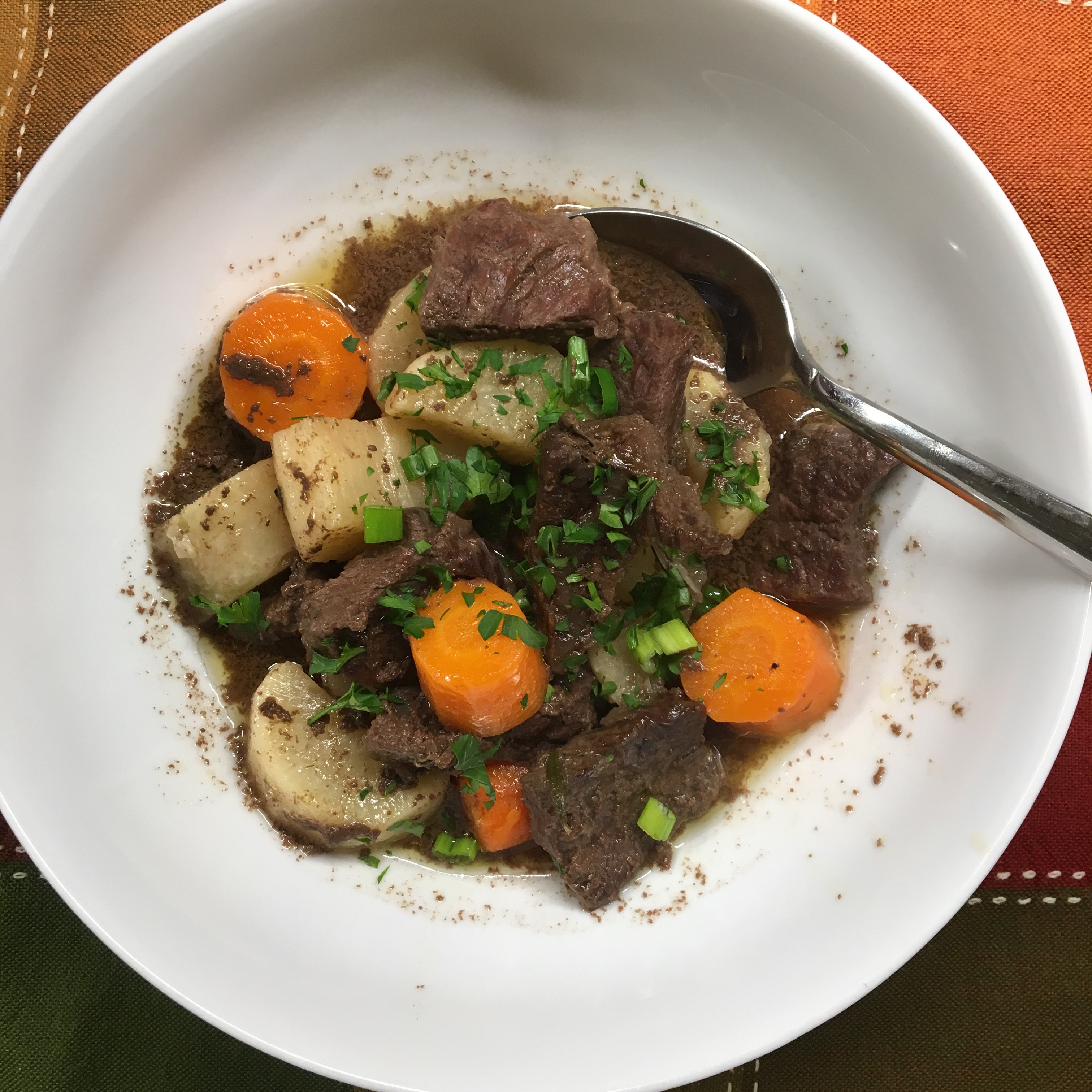 Serves: 4-6
INGREDIENTS: 
1 tbsp ghee, olive oil, coconut oil, avocado oil, or other cooking fat
2 lbs (or so) cut up stew beef, chuck roast, arm roast, or similar cut
1 tbsp onion-infused olive oil* (or 1 medium onion, chopped)
1 tbsp garlic-infused olive oil* (or 3-4 cloves garlic, minced)
1 large diakon radish or several smaller ones, peeled and cut in large chunks
3-4 large carrots or 6-8 smaller ones, peeled and cut into large chunks
3 tbsp coconut aminos 
1.5 cups water or broth 
2-3 sprigs rosemary
small bunch of thyme sprigs
salt and pepper to taste
parsley and green onion to garnish
PREPARATION INSTRUCTIONS:
Preheat the oven to 250 degrees. Heat a large dutch oven or other oven-safe pot over medium heat. Season the beef with salt and pepper. Add the cooking fat and then brown the beef chunks a few minutes per side. If using a roast, cut it up into 2 inch or so chunks and then brown them. Work in batches so as to not over-crowd the meat in the pot. 
While the meat is browning, peel and chop the veggies. Once the meat has been browned on all sides, remove it and either add in the onion and garlic oil OR add a bit more cooking fat and the onions. Allow them to cook until soft and then add the carrots, radish, and garlic, if not using the garlic oil. Season the veggies with salt and pepper. Cook the veggies for a few minutes, stirring around a bit. Add the coconut aminos, and scrape up any browned bits that are stuck on the pot. 
Put the meat back in the pot, add the liquid, and fresh herbs. Place the lid on the pot and bring to a simmer. Once simmering, place pot in the oven for 1.5 to 2 hours. Check it around 1.5 hours and see how soft the meat and veggies are. Continue cooking for another half hour or so if necessary. 
Once it's finished, remove the stems from the herbs (the leaves should have fallen off). Ladle into bowls, garnish with the parsley and green onion, and enjoy!