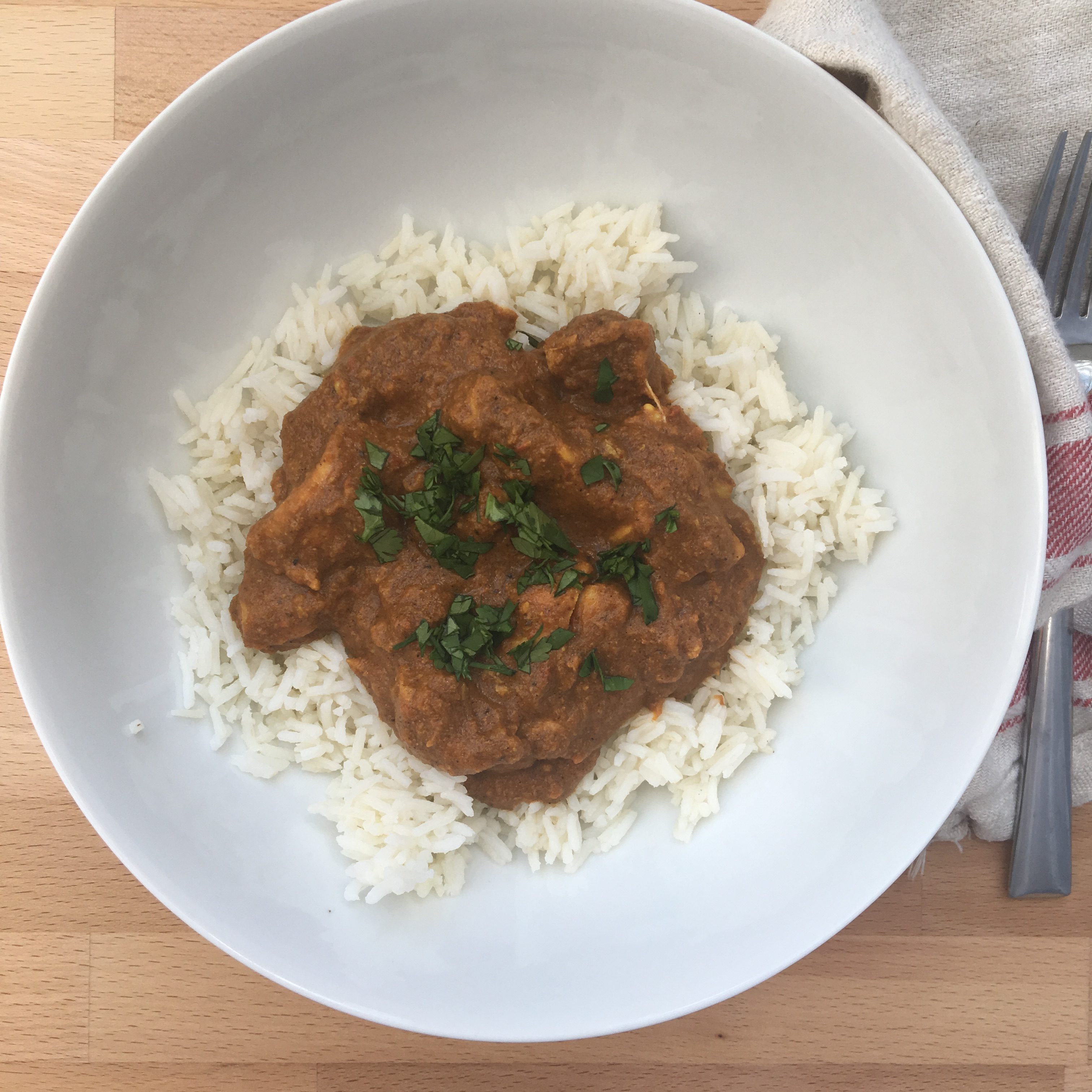 This is a bit of a combination of Butter Chicken and Chicken Tikka Masala. They are pretty similar dishes and I couldn't really decide which direction I wanted to go so I just combined aspects of both but kept it dairy free. So I guess it should be called "Butterless Chicken Tikka Masala."
Neither dish would traditionally be made in a slow cooker but I wanted to be able to set it and forget it so that's what I did! So really, this is not an authentic recipe for either Butter Chicken or Chicken Tikka Masala. But it's made with plenty of warming spices, a creamy sauce, and is full of flavor! 
You can keep it low carb by swapping out the rice for cauliflower, butternut squash, or even rutabaga "rice." Or cook up a box of mixed baby greens and have it on top of that. I had leftovers for lunch on top of leftover roasted butternut squash chunks. Let me know if you give it a try!
Slow Cooker Butterless Chicken Tikka Masala. Or something like that.
serves: 8 – 10 (I made this for a party so feel free to adjust the amounts for a smaller portion)
INGREDIENTS:
3.5 -4 lbs boneless, skinless chicken thighs cut into bite-sized pieces
1 28 oz can diced tomatoes
2 cups full fat coconut milk or 1 can full fat coconut milk
1 onion, chopped (I used a couple tablespoons onion-infused olive oil to keep it lower FODMAP)
8 garlic cloves, minced (I used a couple tablespoons garlic-infused olive oil)
2 inch piece fresh ginger, minced
3 tbsp garam masala
2 tbsp turmeric powder
1 tbsp cumin
1 tbsp smoked paprika 
1 tbsp ground coriander
1/2 tsp cayenne (optional, or use more/less)
1 tbsp sea salt, or to taste
1 tsp black pepper
3 tbsp ghee (or butter or olive oil
PREPARATION INSTRUCTIONS:
Combine all ingredients, except the chicken, in a tall jar and use an immersion blender to blend them up. Or use a regular blender or food processor. This is optional but I wanted a smoother sauce. It also incorporates the spices together well!
Add the cut up chicken to the slow cooker, dump the sauce on top, and cook on low for 6 hours or high for 3 hours. 
Boom, done!