If you're feeling like you need a little extra fresh green stuff in your diet these days, this spring-time salad can do the trick! You could skip the ice bath cooling part and serve this warm if you wanted to or just follow the directions to serve it cooled. Either way this is a simple side dish that would go well with just about any main dish protein you'd like!
Ingredients:
1 lb green beans, cut and ends trimmed 

1 lb asparagus chopped into about 2 inch 

pieces, with tips kept separate
1 cup frozen peas
3 cups packed baby spinach or super greens mix, chopped.
1 small cucumber, chopped. (I like cukes peeled but that's up to you)
Dressing Ingredients:
3 TBSP olive oil

2 TBSP apple cider vinegar

1 TBSP Dijon mustard

1 Tsp honey –

1/4- 1/3 cup fresh herbs, chopped (I used 

chives, mint, and parsley)
Zest from one lemon
1⁄2 tsp each salt and pepper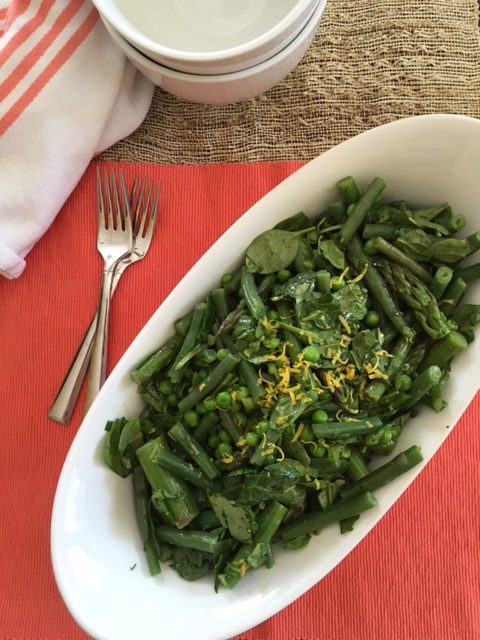 Directions:
Using a medium – large pot, fill it about half way or so with water and bring to a boil. Add the cut beans and asparagus (not the tips) to the boiling water and set a timer for 2 1⁄2 minutes. Meanwhile, fill a bowl with ice and water. When timer rings add asparagus tips and peas and boil for another 1 1⁄2 minutes. Remove from heat, drain, and dump veggies into the ice water to stop the cooking process. Use a small blender, immersion blender, or whisk together the dressing ingredients. Drain the now cooled veggies and mix with the chopped spinach or mixed greens, cucumbers, and dressing. Boom. Springy salad done.