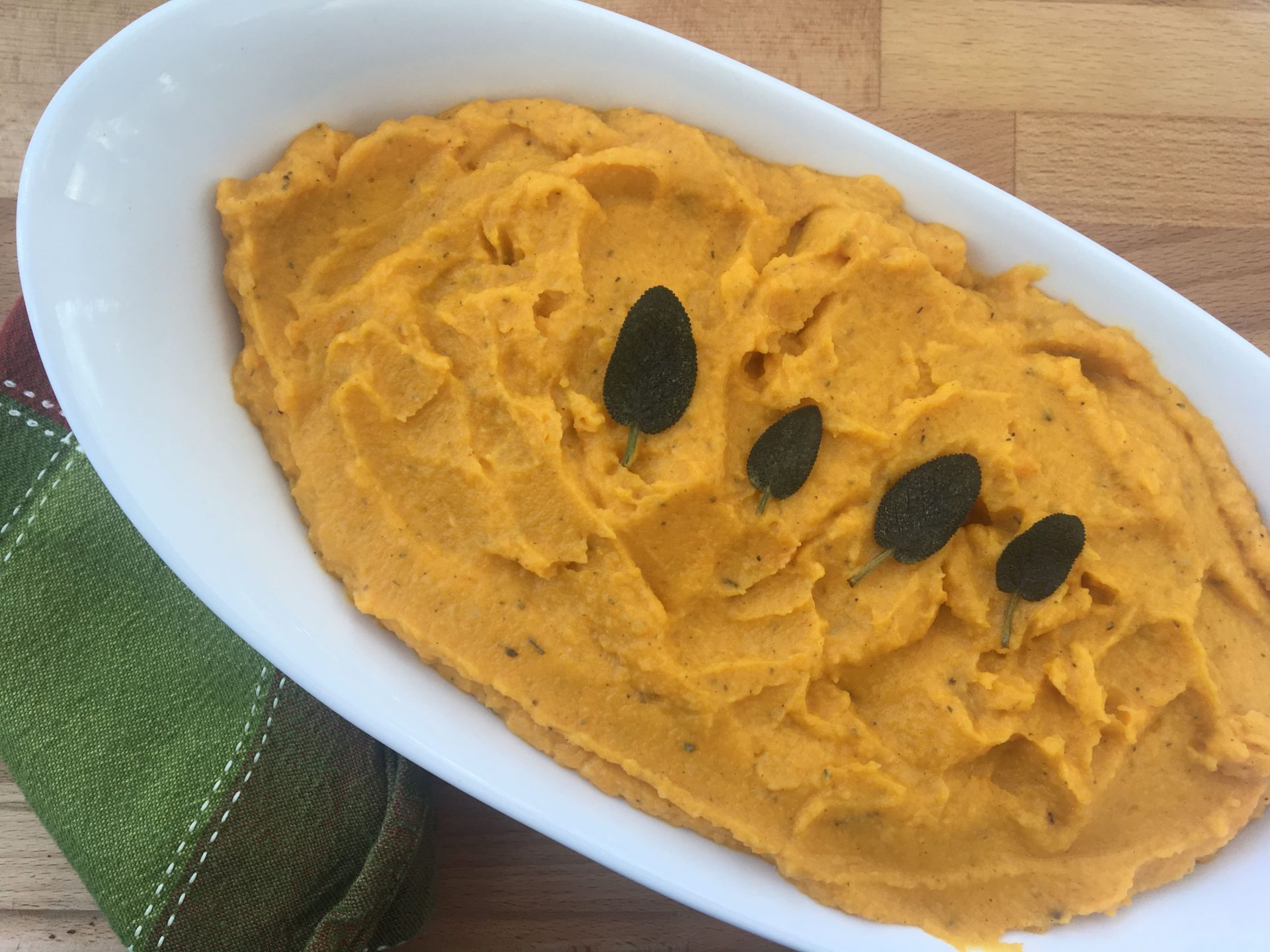 First rule of Mish Mash is there are no rules to Mish Mash.
You take some of this, and some of that, you cook it, you add some flavor bombs, and you mash it all together. No two Mish Mashes have ever been the same, hence the name "Mish Mash." That's the beauty of it though – there are several different flavors happening and you can't quite put your finger on what it is. 
I like to play around with which mash-able veggies I use and which types of seasonings and herbs, although I always use sage and thyme. But you can get down with your own Mish Mash self and use whatever strikes your fancy! 
Serves: Oh goodness, I don't know. A LOT. And as usual, these are not exact amounts. You can't really mess this up and you can taste and add more of whatever you want!
Ingredients:
1 medium to large Rutabaga
1 small or 2/3(ish) large celery root
1 small to medium butternut squash or any other type of orange flesh winter squash.
1/2 to 3/4 cup full fat coconut milk (or the kind from a can – look for varieties without a bunch of preservatives!)
1/4 cup ghee or butter
1/4 to 1/3 cup fresh chopped herbs of choice – I used a mix of sage, rosemary, and thyme
bunch of cloves of garlic or 1 tsp garlic powder
1 tsp ground coriander
1/4 tsp cinnamon
1/4 tsp cardamom
1 tsp salt (or more to taste)
several grinds of black pepper
Directions:
Instant Pot / Roasted Squash Method: Preheat oven to 425 degrees. Cut the butternut squash (or whatever squash you decided on) in half the long way and scoop out the seeds. Roast, cut side down, for 40 minutes or until the skin is easily pierced with a fork and the flesh is nice and mishamash-able (yes, that's a word). If you're using who garlic cloves, peel several of them, mix with a little olive oil, and wrap in foil or parchment paper and add put then in the oven to roast with the squash. While those roast, peel and roughly chop in big chunks the celery root and rutabaga. I use a knife to peel off the outsides of the celery root and then get the rest of it with a vegetable peeler. Add them to the Instant Pot along with a cup of water. Cook on high pressure for 4 minutes and then let the steam naturally release for another 2 or 3 minutes. Drain the water from the pot when finished.
Gather your herbs and chop them up a bit. If you have a big, high powered blender (oh you think you're soooo cool with your big cool blender don't you?), you don't need to mince the herbs too much because the blender will do the work. Mine didn't blend totally well so I needed to do a bit more pre-mincing.
Working in batches if necessary, use a blender to blend up the cooked celery root, rutabaga, squash, ghee, coconut milk, herbs, and spices. You could also combine everything in a big pot or bowl and use an immersion blender to blend it all. That way will leave some bigger chunks probably, which isn't necessarily a bad thing. It's your mish mash so you can mish and mash however you'd like! Remember rule #1.
Non-Instant Pot Method: Two options here. First, chop the rutabaga and celery root into smaller, more even pieces. Then, bring a large pot of water to a boil and add the rutabaga and celery root (still just roast the squash), and cook until they are both soft, maybe 15-20 minutes? Drain and continue with the directions.
Or you can roast all the veggies. Peel and chop the rutabaga and celery root into those smaller, more bite-sized pieces. Toss with some olive oil, salt and pepper, and roast with the squash. Check the rutabaga and celery root after 30 minutes and see if they are ready to come out or need to roast longer. Roast everything until its blend-able. Continue on with the other directions once all the veggies are cooked.
This freezes really well and makes a large amount so you can serve some now and freeze some for later! 
I'd love to hear from you if you make this or something similar. Let me know how you Mish Mash!