Yes, I realize in my small amount of recipes on this blog I already have two sausage kale soups, but I made this for a group of friends and got good reviews so I wanted to share it with the world.
Or ya know, the few of you who are reading this ?.
There are some of the same players in this soup as the chowder but it's different enough that it warrants it's own recipe! I also realize I have another sausage kale soup posted but this one does not use cauliflower. Instead, my new favorite low-carb-potato-stand-in-veggie makes another appearance.
Celery root. Also called celeriac. I prefer to say celery root because celeriac looks like Celiac and then that's just confusing. I decided to do a little googling just now to make sure I didn't give any misinformation about it and discovered that I HAVE been a little mistaken as to what it is.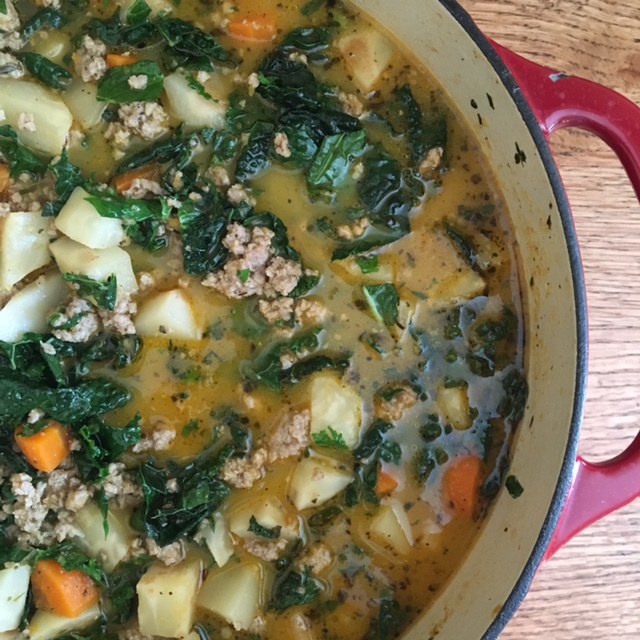 I thought celery root was just the root of all celery plants but it's actually cultivated specifically for it's root, instead of the stalks. So, it's similar, and in the same family, but I was under the impression I could find someone who's growing celery and see if I could buy all their celery roots. I guess I'll have to try growing my own or continue buying them from Holland which is where they all seem to be from in the grocery store.
They're from Holland. "Isn't dat vierd?" (there's probably one person who will get this…)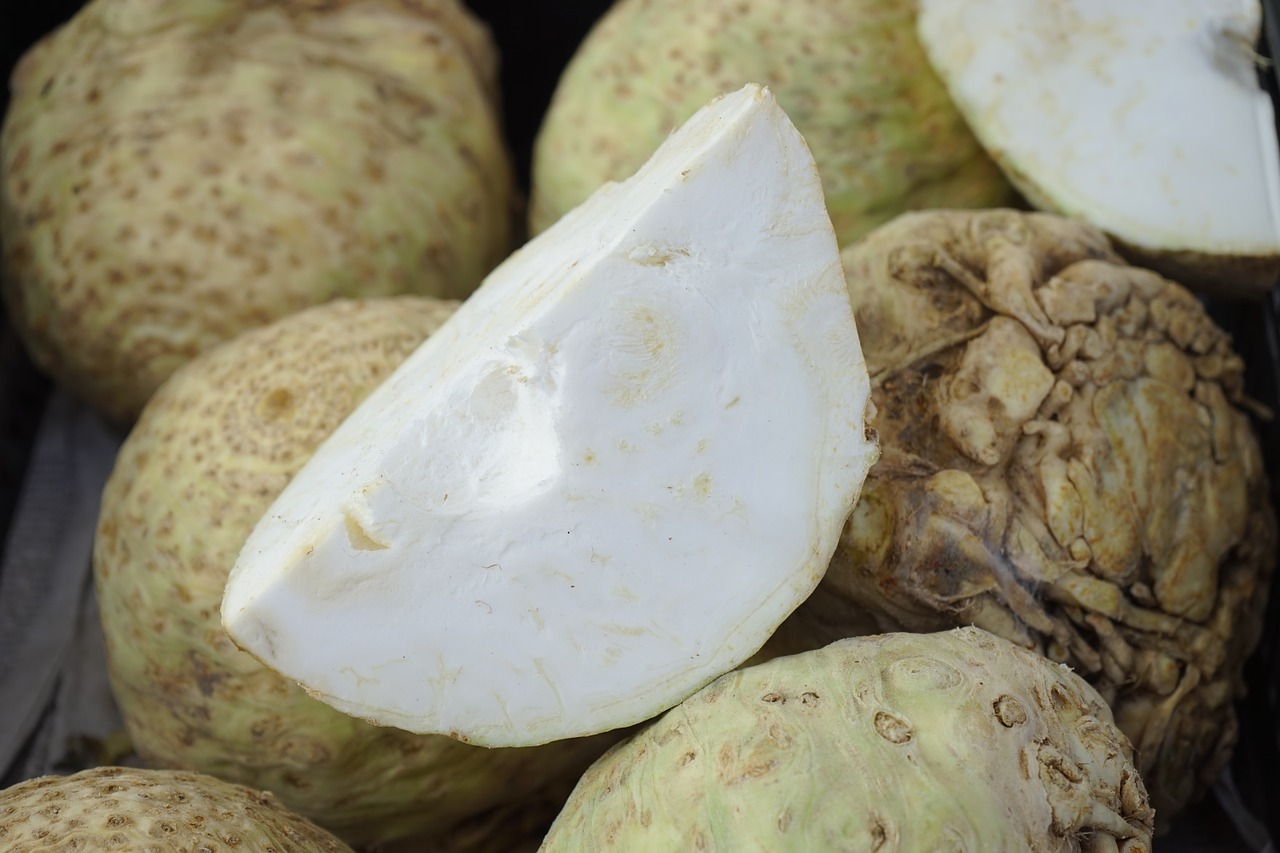 Don't judge these ugly little rooty books by their cover! They're usually hiding in the grocery store in the cold section in the produce department with other not-so-popular roots and tubers like rutabaga and turnips. You likely won't have much to choose from and since they are traveling kind of far to get here they're probably not the freshest things ever but sometimes that's just how it is. Truthfully they're also kinda pricey. Really all I'm doing is giving you reasons NOT to buy them so that there will be more for me. Muuuhahaha.
Why this is healthy:
This, like the chowder, has several low-carb friendly veggies. Celery root, carrots, and kale all provide fiber and essential vitamins, minerals, and antioxidants to protect you from all kinds of bad stuff. Eat your veggies, kids. 
Again, we've got some homemade broth, this time a combo of chicken and beef. We're loading up on more important minerals and collagen to provide easily-absorbable nutrition. 
Pork is not always a great option because it is more often than not from a pig raised in a factory farm. Do a little googling on that and you may never eat pork again. Environmental, sustainability, and ethical reasons aside (which are all actually really important – I'm just not going there at the moment!), sourcing the best quality meat you can is important from a nutrition standpoint. Pigs that are allowed to be outside, doing what pigs do, growing at the rate they're supposed to grow, and not being force-fed are healthier. Healthier pigs = healthier pork = healthier us.
Why this tastes good:
Two kinds of broth (which was only because I didn't have enough chicken broth but it worked well!) with some of the cooked veggies blended into it. This punches up the flavor if you ask me
It has some coconut cream added in which adds to the satisfying, creamy, fatty factor. If you think you don't like coconut, no one out of the 9 people besides myself who ate this detected any coconut taste. Coconut milk (full fat) or cream is my favorite dairy replacement because it's thick, doesn't have a bunch of added ingredients, and adds a slight sweetness to things.
I buy plain ground pork and season it myself. You can use sausage and skip the seasonings to save a little (not much) time, but I say the more herbs and spices, the better! Plus I save a little mulah when I just get the plain pork from the butcher.
I should mention that when I made this I didn't measure anything. I also made it for a lot of people so I'm kinda guessing here with the amounts of things for a more normal-sized amount. But I think it's close enough!
Serves: 6
Ingredients:
1.5 lbs ground pork
one smallish celery root or half a large one
1-2 tbsp cooking fat (ghee, butter, tallow, avocado oil, coconut oil)
2 large carrots
1 bunch kale
3-4 cloves garlic
1 small yellow onion
4 cups chicken broth or mix of chicken and beef broth (mine was probably 2/3 chicken, 1/3 beef)
1/2 – 1 cup full fat coconut milk (depending on how much more liquid you need. Start with 1/2 and go from there)
3 tsp rubbed sage (or a couple tbsp chopped fresh!)
2 tsp dried thyme
handful of fresh thyme sprigs, leaves removed (its okay to have some of the softer stems in there. Just chop it all up!)
1/2 tsp ground fennel (if you only have fennel seed you can either grind it in a coffee grinder OR do what I did and blend it with the coconut milk in a small blender. I only did this because I forgot to add the fennel to the pork but it worked really well!)
1 tsp smoked paprika
1/2 tsp ground coriander
1/8 tsp cayenne
1.5 tsp unrefined sea salt
black pepper, to taste
additional seasonings as necessary!
PREPARATION INSTRUCTIONS:
Heat a heavy bottomed pot on medium heat. Add the ground pork and allow it to brown. Mix together all of the seasonings from the sage through the salt and pepper and sprinkle around on the pork while it cooks.
While the pork is browning, prep your veggies. The celery root needs to have the rough outer layer removed with a small knife. Then chop it up like you would potatoes. Peel and chop the carrots into a similar size. Chop the onions and mince the garlic. Wash the kale, remove the stems, and chop the leaves into small pieces.
When the pork is no longer pink, use a slotted spoon to remove it from the pot. Add in the celery root, carrots, and onion and allow that to cook for a few minutes, stirring occasionally. I didn't measure but you might want to sprinkle some of the same spices you put on the pork onto the veggies. Whatever seems right to you.
Next, add in the broth and bring to a boil. Lower the heat and allow it to simmer for 6-8 minutes or until the veggies are somewhat soft. Not mush though – they're going to cook longer after the next step. Once the veggies are partially cooked, use a slotted spoon to remove about 3/4 of them. Allow the rest of them to simmer in the broth for another 8-10 minutes until they are very soft. Use an immersion blender (or regular blender) to blend these soft veggies in the broth to thicken it up a bit. Just like with the last soup!
Put the rest of the partially cooked veggies back in the pot. Bring it back to a simmer and allow it to cook for another 6-8 minutes or until the rest of the veggies are cooked to your liking. The size that you cut them will help determine how long they need to simmer. So just check them! Add the kale, coconut milk, and cooked sausage back in and heat it all back up. Taste it and if it needs more salt, add some! And any other seasonings you think it needs.
Notes:
I actually didn't use any onion or cloves of garlic in this. I am currently following a low FODMAP approach to my diet to help my gut heal and unfortunately that means no onion or garlic. I did throw in a few tablespoons of a garlic-infused olive oil to the pork while it cooked which adds garlic flavor. All this to say that even without the onion and minced garlic this was really good! So if you're following a low FODMAP diet, you can easily adapt this to fit!
Let me know if you try this and what you think!