This is another non-specific ingredient list. Salads don't need exact amounts of things, in my opinion! So just throw in some of each ingredient (and add others if you're feelin' it) and call it a day!
Ingredients:
2 – 3 beets. Or however many you want to roast. It really doesn't matter!
2 tbsp extra virgin olive oil 
1 to 2 oranges. I used Cara Cara but any orange will do. A mix of different kinds would be pretty!
1 avocado
a bunch of mixed greens
pumpkin seeds (lightly toasted!)
goat cheese, optional
1/4 cup or so chopped fresh cilantro and mint – other fresh herbs would be nice here too. Fresh herbs take this to the next level so include them if you can!
salt and pepper to taste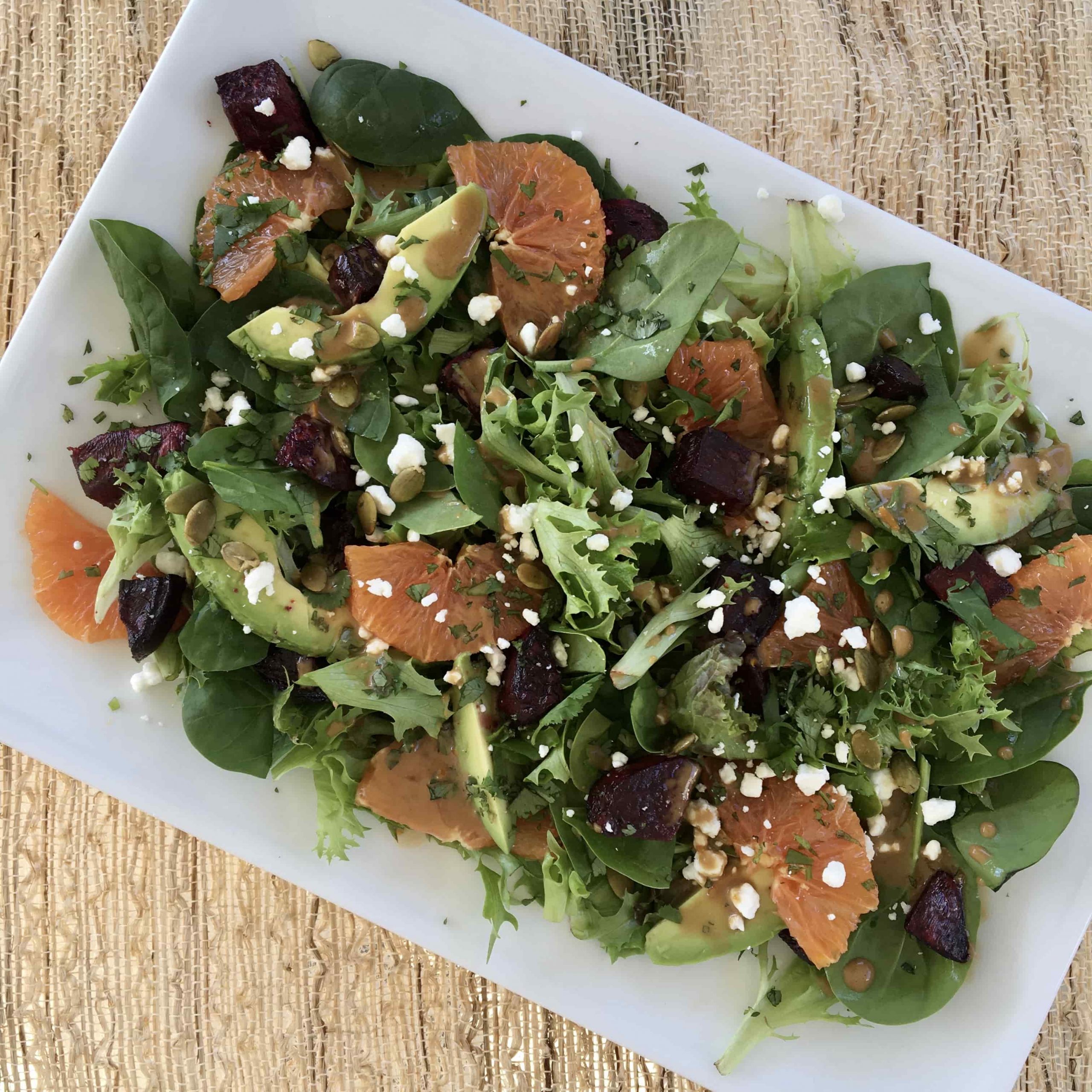 Dressing Ingredients:
1/3 cup extra virgin olive oil

1/4 cup balsamic vinegar

1 tbsp pure maple syrup (not Aunt Jemima's or similar brand) – for sugar free use a few drops of a maple extract and avoid the syrup
Zest from one of the oranges 
Sprinkle of garlic powder
salt and pepper to taste
Directions:
Preheat the oven to 425 degrees. Peel and chop the beets into bite-sized pieces and toss with olive oil. Sprinkle with salt and pepper and roast in the oven for 35-45 minutes or until they are tender to your liking. Toss them around in the pan halfway through cooking. You can do this step ahead of time and then just have the beets cold in the salad or pop them in the oven to warm up while prepping everything else.
Peel the oranges and then cut in half. Slice so that you have half circle shaped pieces. I liked the cara cara for this because they are seedless. To make the salad easier to eat (and I do this with all salads), roughly chop up the greens. Slice the avocado, toast some pumpkin seeds (or any other nut/seed you might want to use!) and add everything to a bowl. 
To make the dressing, add all ingredients to a blender and blend until emulsified. Or just whisk it all together, just be sure to chop up the orange zest very fine if you're doing it that way. 
Add the beets to the salad when they're finished, top with goat cheese if you'd like, and serve with the dressing! This goes nicely with some salmon or some grilled steak!