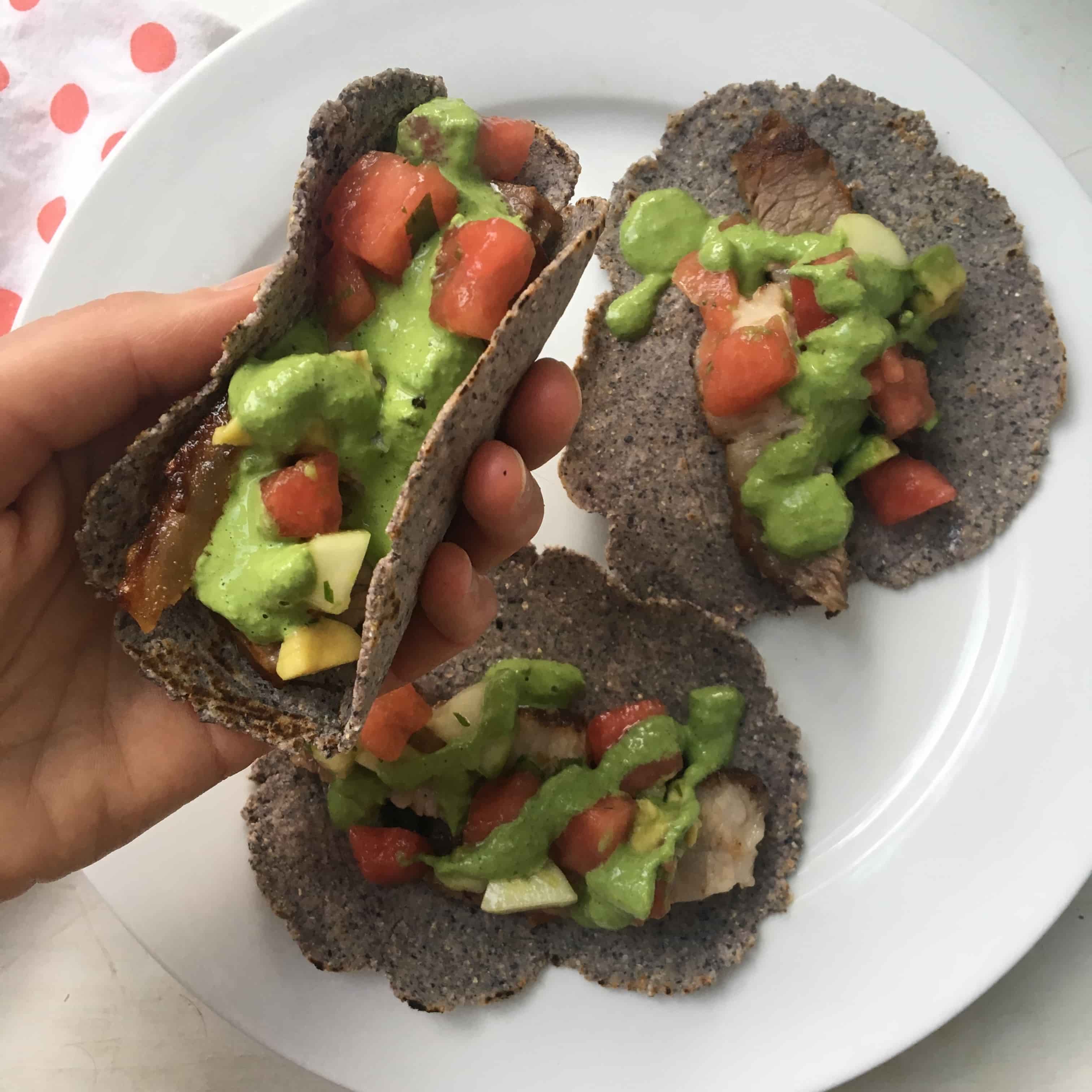 Second taco recipe in a row but it's summertime and I'm craving all things taco-ish. Opted to carb it up on this one with some homemade blue corn tortillas and I ain't mad about it.
My food photography skills continue to be lacking but after tasting the pork belly I wanted to be eating these things ASAP and couldn't bring myself to try to make things look prettier. If you get yourself some pork belly you'll understand.
Bacon is good and all but pork belly? Oh man, ♫ I don't think you're ready for this belly… ♫ (get it?). We had spent a good bit of the day mountain biking and were both pretty ravenous by the time this was ready so we polished off the 2lb piece of meat. If eating 2lbs of pork belly is wrong, I don't wanna be right!
Ingredients:
Serves 3-4 (or two hungry adults)
Pork Belly:
2lb piece of pork belly (mine still had the skin on. You can go either way)
1 tsp garlic powder
1 tsp smoked paprika
1 tsp coconut sugar (could use any sugar or leave it out)
1/2 tsp ground cumin
1 1/2 tsp sea salt
black pepper to taste
Watermelon Salsa Ingredients:
3 cups chopped up watermelon
half a cucumber (or more, use however much you want!), chopped
1 jalepeno pepper, seeded and chopped
1 avocado, chopped
juice from 1 lime (add more if you'd like!)
zest from one lime, minced
a few sprigs of cilantro, chopped
salt to taste
Magic Green Sauce
Green onions – okay, I don't have a specific amount on this. The onions I had were from a farmer and were HUGE so I used maybe a cup of the green parts?
1 bunch cilantro – again, not measured. Just use a big ol' handful, stems and all!
1/3 cup avocado oil mayo
1/4 tsp garlic powder
salt and pepper to taste
water if needed to thin it
Directions:
Now this pork belly does take some time. But it's mostly hands off, and it's so worth it so pick a day to make this when you're doing stuff around the house. If you can do this initial prep work ahead of time that will help with the flavor. Lay the pork fat side up on a cutting board and use a knife to score through a bit of the top layer of fat, but not all the way down to the meat. Make lines across the whole top, about 1/2 or so apart. Then do the same thing in the opposite direction so you have a criss-cross pattern. Mix together the seasonings and rub all over the pork. Cover and put in the fridge for a couple hours or overnight. Or if you don't have time for that, just move on to the next step!
Preheat the oven to 500. Put the pork belly on a rack on a baking sheet or roasting pan lined with foil for easy clean up. Place the pork in the oven for 15 minutes. If it isn't a nice golden brown on top then keep it in the hot oven until it is. After the initial 15 minutes, check it every 5 or so until it's a nice brown color. Once it is, reduce the heat to 325 and keep it in the oven for at least 2 hours, or up to 2.5. My piece wouldn't stay upright so I flipped it a couple times to rotate which side was on top. After it's finished, allow it to rest for 10 minutes.
Meanwhile, pour yourself a margarita and prep the rest of the ingredients. Chop all salsa ingredients and mix together in a bowl and store in the fridge.
Put all the magic green sauce ingredients in a blender and blend it all up, adding a little water if you need to for your desired consistency.
When the pork is finished, slice it up and arrange everything on a corn (organic if possible!), or paleo-friendly tortilla like this brand or keep it low carb and just pile it all together or in a lettuce wrap!