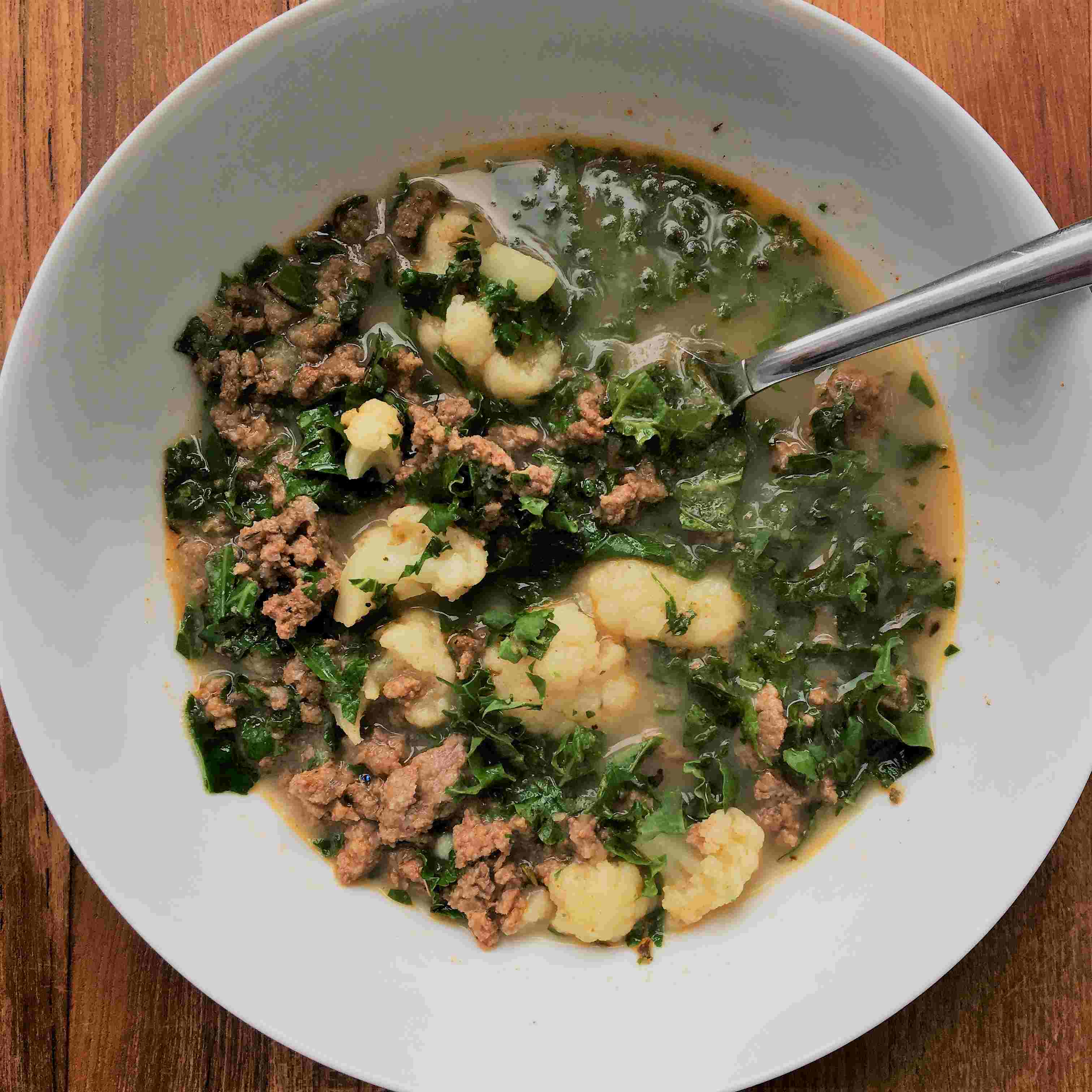 This soup is simple, comforting, easily adaptable (as most soups are), and always a crowd-pleaser! 
Kale. eh, not really a food I get excited about. I mean I'll eat it because it's a nutritional powerhouse and is a great source of anti-oxidant, anti-inflammatory, and anti-cancer nutrients but I generally don't look forward to sitting down to a big bowl of kale!
But! Chopped up small and combined with sausage, homemade broth, and some creaminess from puréed cauliflower, it is totally easy to get a serving of this very nutrient-dense veggie! 
Generally this kind of soup has potatoes and/or white beans in it. I opted to leave out the beans to keep the carb count low and replaced the potatoes with cauliflower. You can make the soup a little creamy by blending some of the cauliflower. Or just add heavy cream or full fat coconut milk!
INGREDIENTS:
1 lb ground sausage (could use chicken, turkey, or pork. Or even ground beef
and season it with sausage-type seasonings!)
2-3 cloves chopped garlic.
4 cups or 1 head frozen or fresh cauliflower chopped into smallish pieces
1 bunch kale chopped up small with hard stems removed
5 cups chicken broth
1-2 tsp rubbed sage or fresh!
1/2 tsp smoked paprika
unrefined sea salt and pepper to taste
Heavy cream or full fat coconut milk to make it extra creamy, optional
PREPARATION INSTRUCTIONS:
Chop the garlic first and let it rest while you get the rest of the ingredients ready (takes 10-15 min for chopped garlic to produce alliicin, one major health-promoting property of garlic). Heat a medium to large pot over medium heat. Brown the sausage until it is no longer pink, breaking it up as it cooks.
While the meat cooks, rinse and chop up the kale leaves and cauliflower. When the meat is finished browning, remove it from the pot. Add the cauliflower, garlic, and herbs to the pot and sauté for a minute or so but don't let the garlic burn. Add chicken broth and scrape up any bits of sausage stuck on the bottom of the pot.
Allow the broth to come to a boil and then gently simmer for 5-8 minutes or until the cauliflower is tender. Remove about half of the cauliflower (just add to the bowl where you put the sausage).
Use an immersion blender (I highly recommend this kitchen tool if you don't have one!) to blend the remaining cauliflower in the pot with the broth until nice and smooth. Add the sausage and rest of the cauliflower back in as well as the chopped up kale. Add salt and pepper to taste as well as the heavy cream or coconut milk, if using. Allow to gently simmer for a couple minutes until the kale is softened and the sausage heats back up.
Serve and slurp it up!