I love a fall salad that includes a bit of raw veggie and a bit of roasted squash. When I told my husband we were having "fall salad" for dinner he said, "so a salad with delicata squash on it?" Bingo. He knows me so well!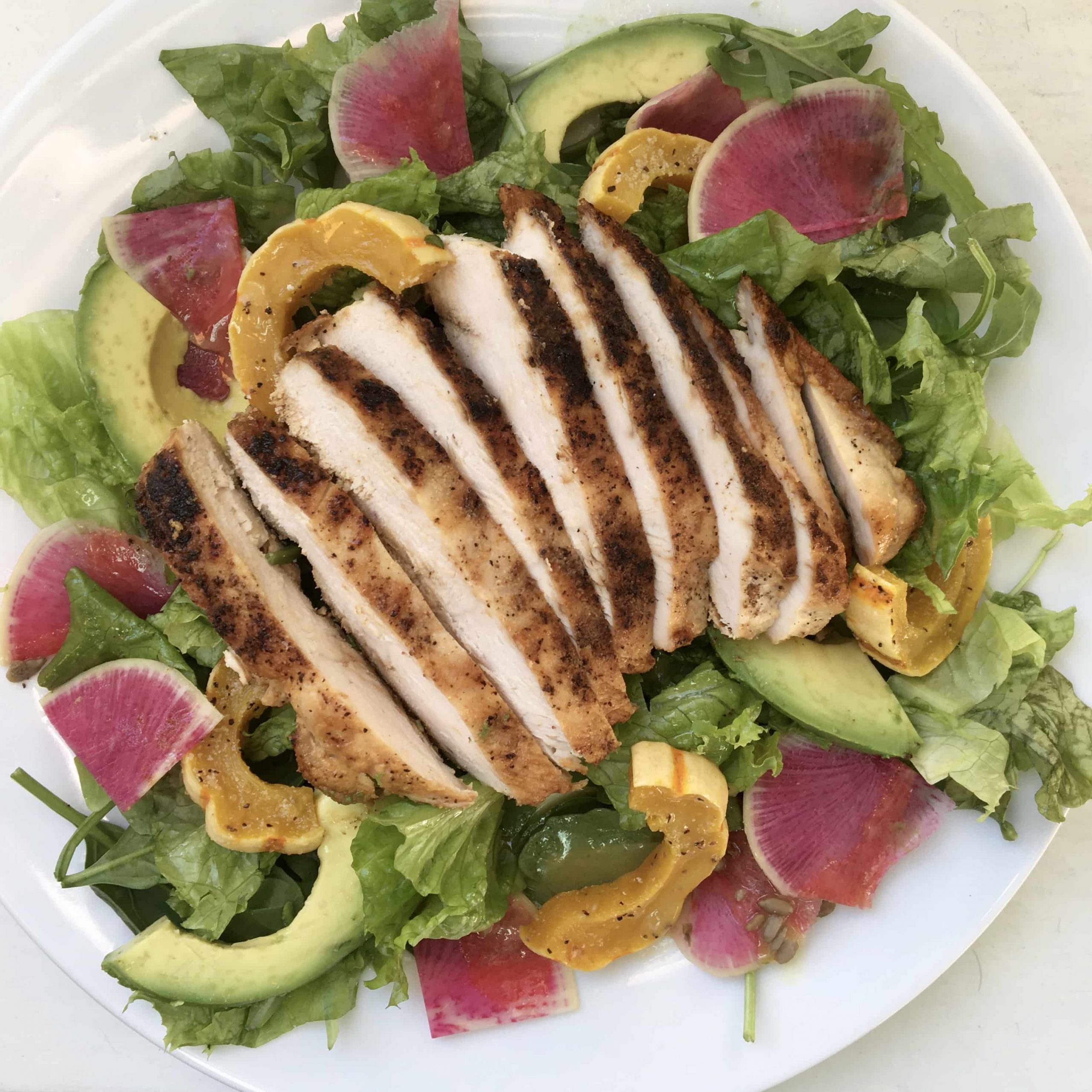 Ingredients:
4 tbsp olive oil, ghee, butter, chicken fat, or tallow, divided.
1 delicata squash
3-4 chicken breasts (or however many you need for the people eating this/leftovers!)
Salt and pepper to taste
1 tsp garlic powder (more or less to taste, enough to sprinkle on the chicken)
1 watermelon radish (or regular red radishes)
1 avocado
pumpkin or sunflower seeds
leafy greens of choice (I used fresh lettuce mixed with boxed spinach and arugula mix)
Dressing Ingredients:
1/2 cup extra virgin olive oil
1/4 cup apple cider vinegar
2 tbsp dijon mustard
1 tbsp raw honey
Directions:
Preheat the oven to 425 degrees. Slice the delicata squash in half lengthwise and scoop out the seeds. Then slice the opposite way so that you create little half moon shapes or smiles, if you will. Toss with half of the cooking fat (I used olive oil) and arrange flat on a sheet pan. Sprinkle with salt and pepper and a bit of garlic powder. Roast for 15-20 minutes.
Heat a large skillet over medium heat. Use a meat tenderizer to pound the chicken breasts to a uniform thickness. This is optional but helps them cook quicker and more evenly. Season the chicken with salt, pepper, and garlic powder. Add the cooking fat to the pan (I used chicken fat this time) and then place the chicken breasts in and cook for 4-5 minutes. Flip and cook on the other side for another 4-5 minutes. Depending on how thin you pounded the breasts you may need to cook longer (or shorter), just check them with a meat thermometer. To avoid dry chicken, take them off the pan when they've reached a temperature of 150-155 degrees. They'll cook more while they rest and while the USDA says to cook chicken to 165 degrees, that is the temperature that instantly kills bacteria. If the meat stays at 155 degrees for about 55 seconds, that also kills all bacteria. If you wait until the chicken reaches 165 before removing it from the pan, it'll still go up another 10 degrees or so after removing it from the pan and will result in dry chicken. Blah.
So, while the chicken and squash are cooking, wash and slice the radish, roughly chop the greens, slice the avocado, and mix or blend the dressing ingredients. I use an immersion blender and it keeps it mixed together well. 
When the chicken and squash are both finished, toss all the salad ingredients together, and slice and add the chicken! And it's not in the ingredient list but if you are a dairy-eater, go ahead and add a little goat cheese to this 🙂