Yep. Another recipe with butternut squash. It really only happened because I had some roasted squash leftover from something else and decided to throw some in the meatballs.
If you've got some already roasted squash or even sweet potato these are really quick to whip up. You could probably even use pumpkin purée though it might be a little wet.
I recently picked up some maple extract because I wanted to add maple flavor to things without the added sugar from maple syrup. If you're not staying very low carb you can use a teaspoon or two of pure maple syrup instead of the extract.
You could make these with dried rosemary but I think fresh is the way to go!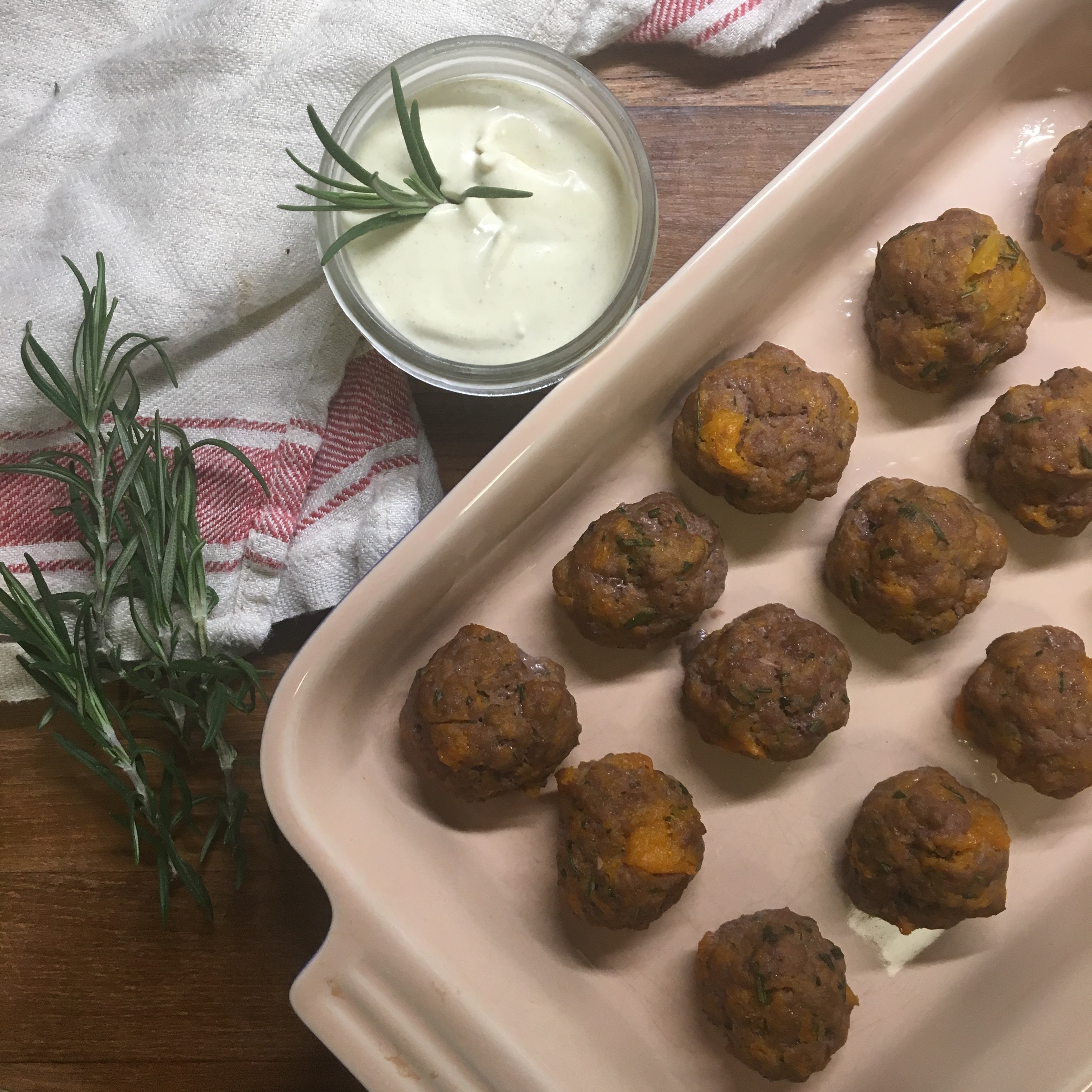 Why this is healthy:
If you can get grass-fed beef you'll be upping the nutritional content of these little guys. Grass-fed beef is much higher in anti-inflammatory, heart-healthy omega-3 fats and lower in pro-inflammatory omega-6 fats. You can feel good about eating the fat from this kind of beef! If you can't get your hands on grass-fed beef I'd recommend opting for closer to 90% lean beef. Animals store toxins in their fat. When the animal is healthy and eating it's natural diet (grass) it will not be storing toxins the way a conventional grain-fed animal would be. Healthy animal = healthy animal fat = healthy you! 
With the fresh rosemary you're getting some vitamin A, antioxidants, and anti-microbial nutrients so that's pretty neat-o.  
Why this tastes good:
Fresh rosemary and beef are a great combo! The bit of butternut squash gives a little sweetness, as does the maple mustard dipping sauce. Once again we've got some nice fall flavors for the win!
Serves: 8-10 as an appetizer, 3-4 as a meal
Meatball Ingredients:
1 lb grass-fed beef
scant 1/2 cup roasted butternut squash (or acorn, pumpkin, sweet potato, etc.)
1/4 cup chopped fresh rosemary
2 cloves garlic, minced.
2 Tbsp extra virgin olive oil (or for a belly-friendly low-FODMAP version, omit the minced garlic and just use 2 tbsp garlic-infused olive oil)
1 teaspoon ground coriander
1 teaspoon unrefined sea salt
black pepper to taste
Sauce Ingredients:
2 ounces (or so) full fat coconut milk or cream (I use this coconut milk and it thickens up in the fridge)
1.5 tbsp Dijon or grainy mustard
2-3 drops maple extract OR 2 tsp pure maple syrup
1/8 tsp cardamom
PREPARATION INSTRUCTIONS:
Preheat the oven to 375 degrees. In a bowl combine all the meatball ingredients until well incorporated. Roll into meatballs (I ended up with 24) and place in a casserole dish, sheet pan, or oven safe skillet and bake for 15 minutes. 
While they bake, whisk together the sauce ingredients and keep in the refrigerator. 
 The meatballs will release some delicious juices which I then dumped on top of them in the serving dish I used. Don't waste that stuff! 
Notes:
You could do the extra step of browning the meatballs on the stove-top to better seal in the juices. I was lazy and wanted something quick so I didn't but they'd probably be really good that way!
Let me know if you try this and what you think!