This is a truly quick dinner option. Especially if you use some frozen cauliflower rice, which also keeps this a Restart® friendly meal!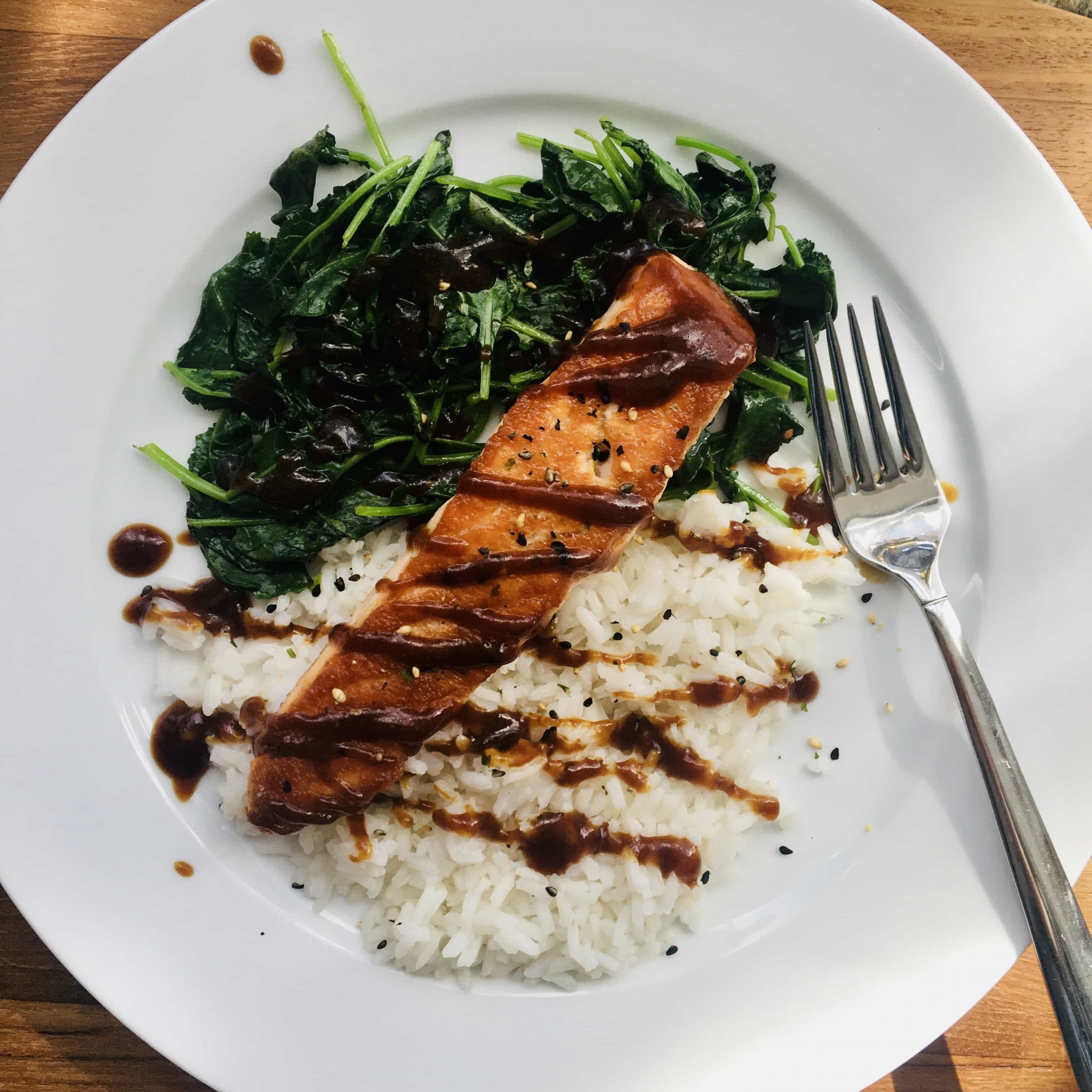 Salmon Ingredients:
Four (or more) 4-6 ounce salmon filets or 1lb uncut salmon filet. You can obviously have more or less salmon depending on the number of people you're feeding and whether you want leftovers!
2 tbsp ghee, butter, or extra virgin olive oil
Teriyaki Sauce Ingredients:
1/4 cup coconut aminos
1/4 cup low sodium Tamari (gluten free soy sauce)
1 tsp garlic powder
1 tsp ground ginger (or 1 inch fresh ginger, minced)
2 tbsp rice vinegar
1 tsp fish sauce (just omit if you don't have it)
2 tsp potato, arrowroot, or tapioca starch (I used potato starch)
water or chicken broth for mixing with starch and thinning sauce
2 tsp sesame oil
Directions:
Whisk together the coconut aminos, tamari, garlic, ginger, vinegar, and fish sauce. Heat to a simmer in a small saucepan. Mix together the potato starch and a few tablespoons of water (or broth). Add to the sauce ingredients and mix well while it cooks and thickens up. Add more water or broth if it's too thick or add some more starch mixed with water if you want it thicker. 
While the sauce is cooking, heat a stainless steel or cast iron pan on medium – medium high heat. Add the cooking fat and then place the salmon in the pan. Don't salt the salmon because the sauce is going to be really salty, even with the low sodium tamari. I love salt but even I wouldn't have wanted the salmon salted first! Cook the salmon on each side for 2-3 minutes, depending on how thick your filets are. If you try to flip it and it's really sticking, just let it cook a little more until you can flip it without too much trouble. This nice sear will give you a satisfying crunchy crust on the salmon! Cooked this way will also give you crispy salmon skin which I love! 
Once the salmon is finished, add the 2 tsp of sesame oil to the sauce. The reason I do this at the end is because sesame oil is high in delicate polyunsaturated fatty acids that can be damaged by heat. So I just add it at the end!
I served this with rice and sauteed baby kale (just toss it in the pan after the salmon is done! Cool the pan a little first and get rid of excess oil leftover). Swap out the rice for cauliflower rice or another veggie to keep it low carb or Restart or Whole 30 friendly!