Can you call something a "taco" bowl if it isn't on a tortilla? I'm not the first person to do that so I guess it's okay. Feel free to have this on tortillas like my husband did in true taco style. I opted for the low-carb, corn-free version in a bowl because I really like eating things out of bowls anyway and I'd probably end up dumping everything all over myself if I were trying to eat them as regular tacos. 
I opted for the easier prep method and bought bags of shredded coleslaw mix and frozen cauliflower rice. You can buy whole versions of those veggies and shred/rice them but I was lazy and also didn't feel like having bits of cabbage and cauliflower all over my kitchen, which is what happens when I shred them up.
Serves 3 (kind of – I used shrimp for about 3 people. There was leftover slaw and cauli rice. Adjust shrimp and shrimp spices to the number of people):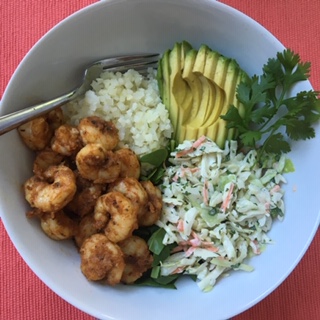 Shrimp Ingredients:
16 ounces shrimp – peeled and de-veined 

1.5 tsp cumin
1 tsp garlic powder
1/2 tsp oregano
1/2 tsp smoked paprika
scant 1/4 tsp chipotle chili powder
dash or two ground cloves
salt and pepper to taste
Zesty Lime Slaw Ingredients:
1 bag cabbage and carrot coleslaw mix
1/2 cup mayonnaise (I like Primal Kitchen or Chosen Foods brands)
juice from 2 limes (about 4 TBSP)
zest from one lime
1 small bunch of cilantro, chopped. Maybe 1/3 cup(ish)
salt and pepper to taste
Other Ingredients:
Cauliflower rice
Sliced avocado
Chopped up spinach or other greens
Spicy mayo sauce (not pictured – just mix mayo and some of your favorite hot sauce)
Directions:
Mix the seasoning for the shrimp together and then toss with the shrimp to coat them. Let them sit for a few minutes while you combine the ingredients together for the zesty slaw. Allow that to sit for a few minutes as well (or make it earlier!) and get the cauliflower rice cooking according to the directions (put it in a pot and cook over medium heat for a few minutes).
Heat a pan over medium heat and add your cooking fat of choice (avocado, olive, coconut, butter, ghee). Dump the shrimp in the pan and cook for about 2 minutes and then flip. Cook for another 2 minutes or more/less depending on the size of the shrimp.
Assemble your bowls with the cauliflower rice, some greens, the zesty slaw, shrimp, avocado, and some spicy mayo sauce if you wish (I didn't wish. My husband did wish).
There you have it! Super quick, summery, and satisfying.