Super creative name. My husband often asks me what I call different meals that I make and tells me I'm not allowed to just list the ingredients. But what the heck else would I call this? Bombtasic Spring Salad maybe. He probably wouldn't like that name though. Anyhoo, this was simple to whip up and of course if easily adapted to your preferred salad prepping needs and desires! We've been working away on our camper van conversion (I'll have to do some posts here about that but for now you can check out my ShaVANagans story highlights on Instragram if you feel so inclined) and I've been needing some fast dinner ideas. This salad suited those needs but was actually interesting enough to post on here. Most of what we've been eating is super simple and not really worth writing a recipe! 
If you try this, I'd love to hear what you think and if you did anything to make it even better!
Serves 4: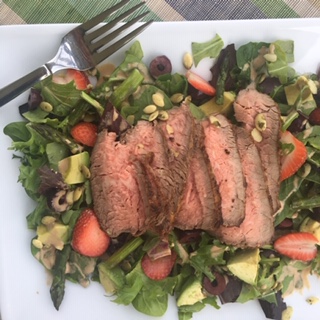 Salad Ingredients:
2lbs (or whatever you have) steak cut of choice (I used Tri Tip)

1 bunch of asparagus
Mixed dark leafy greens
2 avocados
9 or so Kalamata olives
8 or so strawberries, sliced
1/2 cup pumpkin seeds
Dressing Ingredients:
2/3 cup strawberries
1/4 cup balsamic vinegar 
6-8 large basil leaves
 1/2 cup (or more if needed) extra virgin olive oil
salt, pepper, and a few dashes of garlic powder
Directions:
Preheat the oven to 375. Break the ends off the asparagus and spread on a roasting pan. Drizzle with olive oil or other fat, season with salt and pepper and roast for 10 minutes.
Season the steak with salt and pepper and cook either on the grill or on the stove top. Mine was pretty thick so I cooked it 3-4 minutes per side and then finished it in the oven. My meat thermometer is broken so I ended up leaving the meat in the oven slightly longer than I would have wanted! Depending on how you like your steak you can remove it from the heat when it reaches 130-135 degrees for medium rare or 135-145 for medium. If you want it done more than that then we need to have a conversation about how you like steak to be cooked ?. Allow the meat to rest for 5 minutes after cooking. 
While those are cooking, use a blender to blend all the salad dressing ingredients together. 
Slice the olives, strawberries, and avocados, and chop the asparagus when it's finished cooking. Slice the steak, arrange your salad, and enjoy!