Meatball Ingredients: 
1 lb ground beef

1 avocado, mashed

1 tsp sea salt

1 tsp garlic powder

1 heaping tbsp fresh minced ginger

3 green onions, sliced

2 tsp minced orange zest

Black pepper to taste
The Rest of the Bowl Ingredients:
½ large head green cabbage

1 tbsp olive oil

2 cups beef or chicken broth, divided

2 tbsp coconut aminos (or tamari)

2 tsp fish sauce

3 cloves garlic, smashed

2 bags low carb noodles like miracle noodles (or spiralized zucchini)

2-3 tsp tapioca or potato starch

Scant ¼ cup fresh squeezed orange juice (from the orange you used for zest)

1 tbsp rice vinegar

Additional green onion and cilantro for serving

Salt and pepper to taste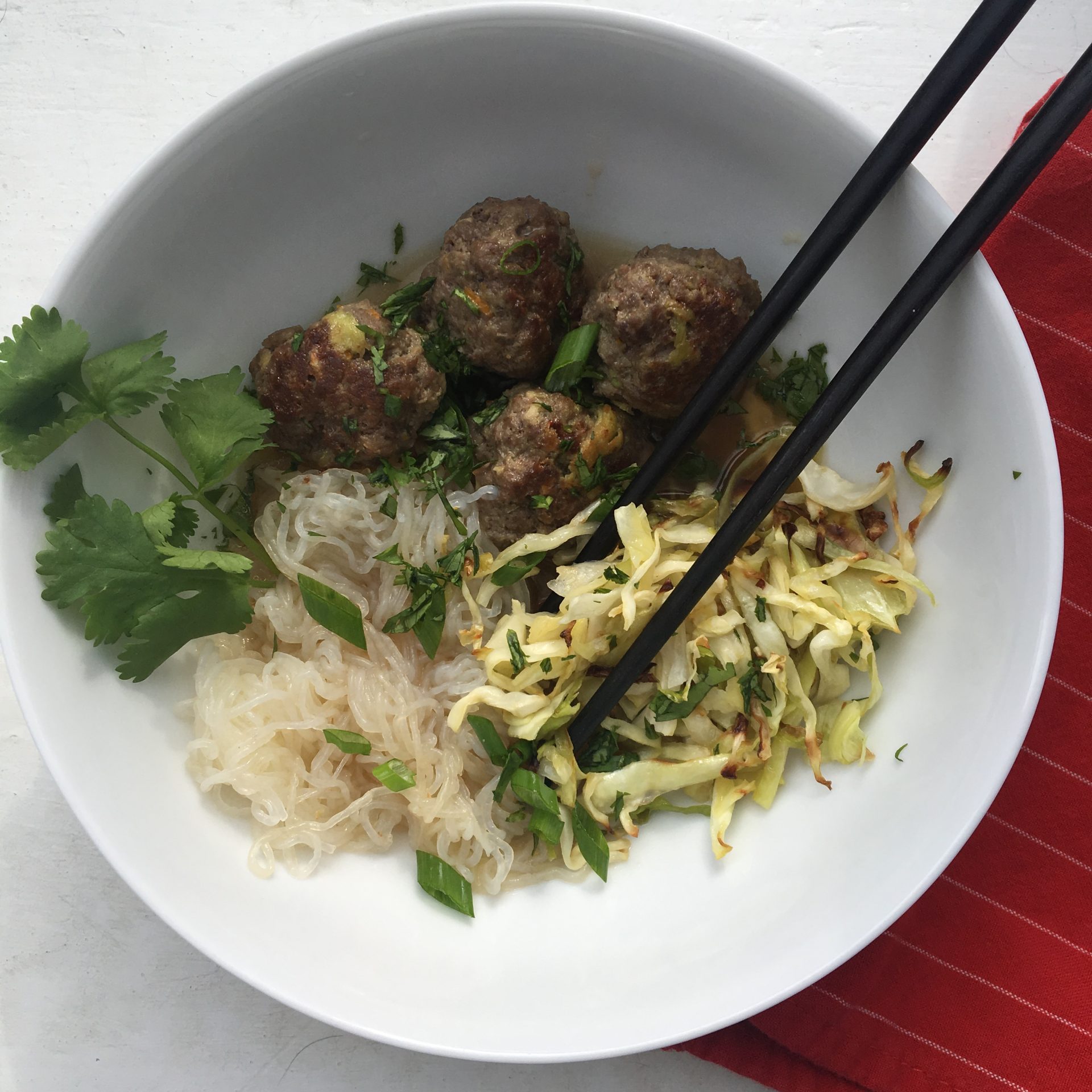 Directions:
Preheat the oven to 400. In a medium saucepan, heat up 1 ¾ cups of the broth with the coconut aminos, fish sauce, and smashed garlic cloves.
Line a baking sheet with parchment. Thinly slice the cabbage and then toss with olive oil and salt and pepper.
Pop in the oven for 10 minutes or until you finish the next step. Assemble the meatball ingredients. Heat a cast iron or stainless steel skillet (or other oven-safe pan) over medium heat and form meatballs while the pan heats up. Once hot, brown the meatballs on one side for two minutes, flip and brown the other side for 1 minute. Put the pan in the oven and set the timer for an additional 8-10 minutes, depending on the size of your meatballs. Stir the cabbage around at this time
and then let it continue to roast while the meatballs are in there as well. 
While the meatballs are baking, combine the orange juice and other ¼ of broth in a small dish. Whisk the tapioca or potato starch into the dish with the orange juice and bit of broth. Then whisk it into the pot of broth to thicken it up. Keep the pot on low heat to stay warm while you assemble everything. If you want it to be thicker, just whisk some more starch and a little water and pour into the pot.
If using Miracle Noodles, drain and rinse them. Or make your spiralized zucchini noodles. When the meatballs are finished, remove them from the pan to a plate and cover with foil to stay warm. Dump the noodles into the pan and allow them to warm up in the juices from the meatballs.
Now it's time to assemble the bowls. Add 3 or 4 meatballs, the cabbage, and noodles or zoodles to the bowl. Top with the sauce and garnish with green onion and cilantro, and slurp it up!