You can easily use any kind of winter squash or pumpkin for this soup. I used a buttercup squash and a butterkin, which is a hybrid of pumpkin and butternut. One large butternut squash would work fine instead though!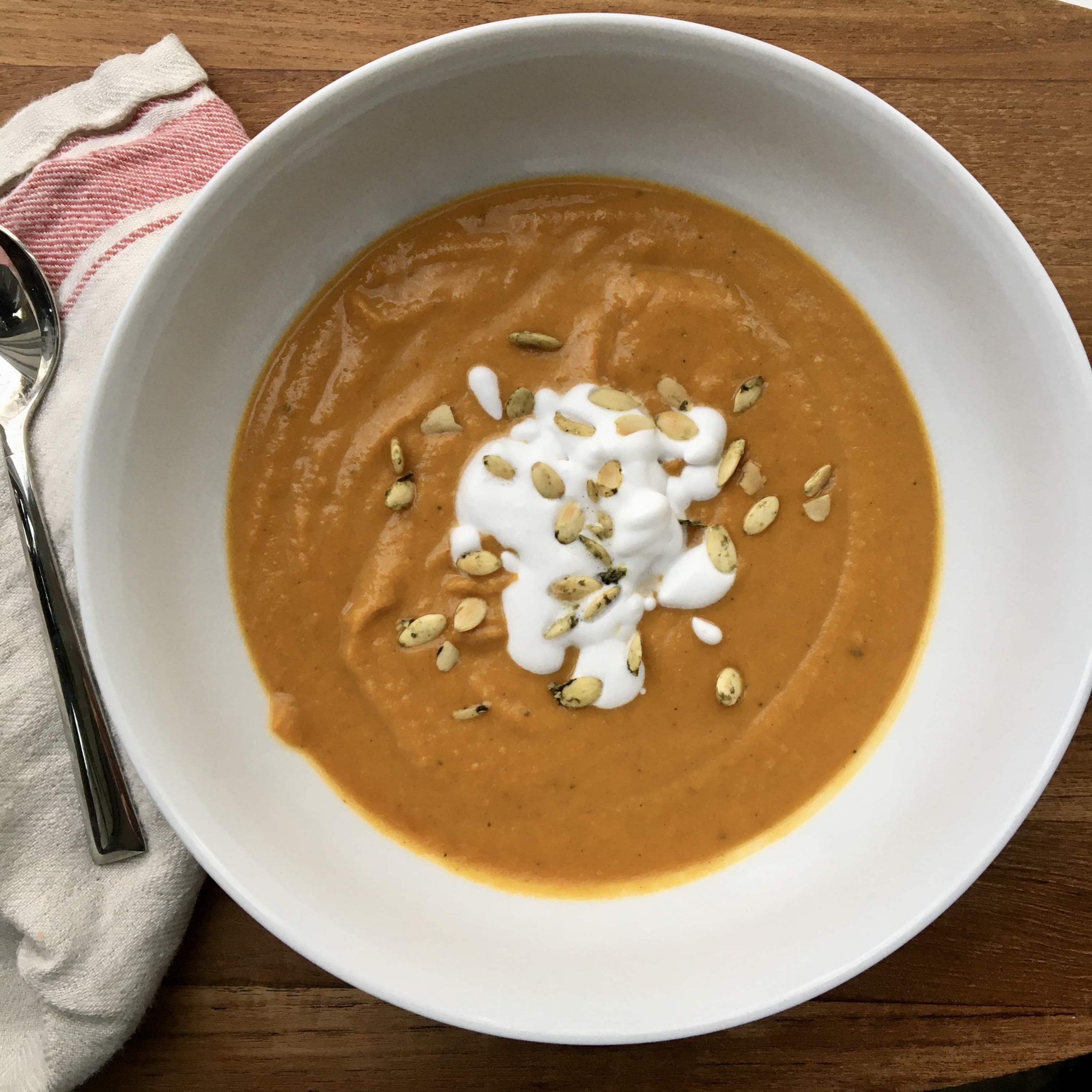 Ingredients:
1 Butterkin Squash
1 buttercup Squash
1 onion
1 large (or a couple smaller) carrots, diced
3 large garlic cloves, minced
1 inch or so fresh ginger, minced (if you don't have this, just add a 1/2 tsp dried ginger to the other spices below)
1 tsp sea salt
black pepper to taste
1/2 tsp smoked paprika
1/2 tsp turmeric
1/2 tsp coriander 
1/2 tsp cumin
1 tsp garam masala spice (or add some cinnamon, cardamom, cloves, more cumin, more coriander, and black pepper)
1/4 tsp (more or less depending on taste) cayenne
3 cups chicken broth (additional 1 cup later if you need it)
1 cup full fat coconut milk
Directions(Instant Pot Method):
Cut the squash in half and scoop out the seeds. Add 1 cup of water to the IP and arrange squash in, on top of the trivet. Set timer to 6-7 minutes, depending on the size of the squash. Allow the steam to release naturally for at least 10 minutes, or just until it's totally released. 
Meanwhile, chop the onion and carrot and mince the garlic and ginger. Combine the seasonings in a little bowl.
When the squash is finished, carefully remove it from the pot, dump out the water, and allow the squash to cool for a few minutes before peeling off the skin. While it's cooling, turn the IP to sauté and add some butter or ghee. Cook the onion and carrot for a few minutes, stirring frequently. Add in the garlic, cook for 30 seconds or so, and then add the spices. Mix that around and then add the 3 cups of broth. Close and seal the lid and set the pressure to 2 minutes to get the carrots nice and soft. Use this time to peel off the squash skin.
You can manually release the pressure or let it release a bit on its own. If the carrots aren't soft enough to blend, you can add another minute but they should be fine. Add the cooked squash back to the pot and use an immersion blender (or transfer everything to a blender and blend while you also order yourself an immersion blender!) to blend it all together. Add the cup of coconut milk and then taste and see if you want more salt or pepper. If you'd like it to be thinner, add some more chicken broth.
Garnish with some toasted pumpkin seeds and a bit more of the thick coconut milk!
Directions(non-IP method):
Preheat oven to 400. Cut squash in half, remove seeds, and roast for 30 to 40 minutes or until the squash is tender. Meanwhile, prep the veggies and add olive oil, butter, or ghee and chopped onion and carrots to a pot heated to medium heat on the stovetop. Sauté for a few minutes until onions are translucent. Add minced garlic and ginger and cook for 30 seconds or so. Add the spices and broth and bring to a simmer. Simmer for 8-10 minutes and remove from heat. Once the squash is finished roasting, add it to the pot, and use an immersion blender to blend it all up (or transfer to a regular blender). Add coconut milk and stir to combine!