I think this would probably be best grilled, but we only currently have a small camping grill that tends to flame up a lot when grilling meat like this soooooo I opted to cook this using the broiler. Either way works but if you can I'd recommend grilling a couple minutes per side! You can also use flank steak instead of skirt steak but it won't have the same marbling that skirt steak does. Feel free to use any herbs you have or like – that's one of the great things about fresh herbs, you can use whatever you have and it generally works!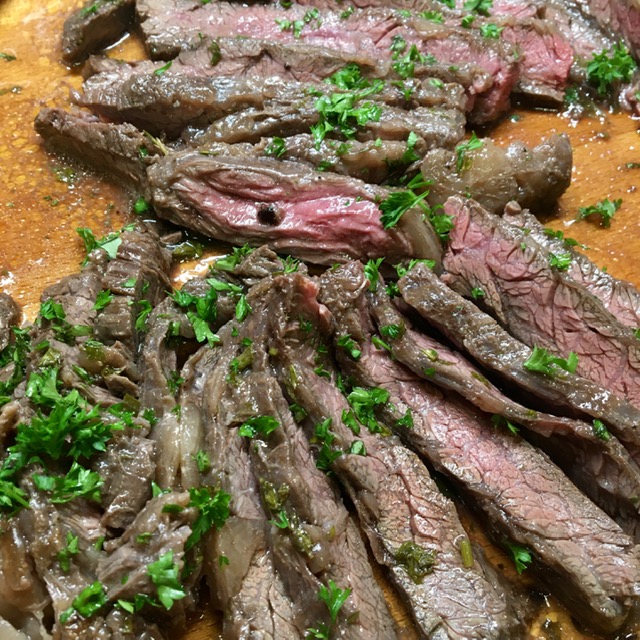 (please excuse this photo – it was later than I wanted and I was using my old iPhone with crappy lighting 🙃)
Ingredients:
1.5 – 2lbs skirt (or flank) steak
salt and pepper to taste
3-4 cloves of garlic, minced (or sprinkle the meat with garlic powder)
1/4 – 1/3 cup extra virgin olive oil
1/4 – 1/3 cup chopped mixed herbs. I used parsley, chives, basil, rosemary, and thyme.
2 – 4 tbsp lemon juice, or the juice of one or two lemons, depending on the size of the steak and how lemony you would like it to be.
2 tbsp Dijon mustard
A few tablespoons of extra fresh herbs chopped up for serving.
Directions:
My skirt steak was quite long so I cut it into 3 equal-ish pieces. Sprinkle the meat with salt and pepper. Combine the chopped herbs, minced garlic, olive oil, mustard, and lemon juice in a dish or bag that you'll use for marinating. Mix or stir it around and then add the meat and make sure it gets coated somewhat evenly. Cover and refrigerate for a least a few hours.
Like I mentioned above, I'd recommend grilling this even though that's not what I did! Skirt steak is thin and only really needs a few minutes per side on a hot grill, hot pan on the stove, or under the broiler. So, grill for 3-5 minutes per side or broil for 2-4 minutes per side, depending on the thickness and how hot your broiler is. Make sure your pan is set up close to the broiler. 
Let the meat rest for 10 minutes and then slice against the grain. Top with some extra fresh herbs and enjoy!